Exclusive
Angelina Jolie's Simple Pleasures - Louis Vuitton And Edible Insects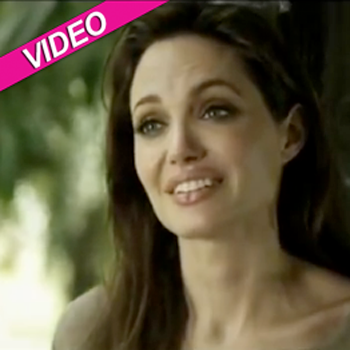 Angelina Jolie shows what happens when two worlds collide as she talks about poverty stricken Cambodia, while posing for a multimillion dollar ad campaign for Louis Vuitton and RadarOnline.com has the video.
While there is no doubt, the charitable star is selflessly dedicated to her work as a Goodwill Ambassador for the United Nations, her latest Core Values ad for the luxury luggage company certainly has a whiff of irony about it.
Article continues below advertisement
Posing in the jungle, dressed in casual clothing, Jolie talks about her experiences with the country - where she adopted her first son, Maddox - and how it's the most 'simple' things in life which are most important.
"The simple pleasures of life and not having much tends to keep a family together in a way in which we can learn from," she says before talking how she adapts to the country during visits with her family.
"I try to experience as much as I can and adapt. So we can blend and have a full experience. I try not hold on to those things that are your comforts of home. I try to let them go and be of the new country."
In fact the actress - whose deal with Louis Vuitton is worth nearly $10 million - even talks about dining on crickets when she is there.
"My boys love to eat crickets. It's their favourite thing. When I first gave it to them... I wanted them not to be turned off by something that was of their culture. They ate them like Dorito's, and they wouldn't stop."