Exclusive
Will Angelina Jolie's Bridesmaid 'Crisis' Stall Her Wedding To Brad Pitt? 'She Really Has No Female Friends,' Says Source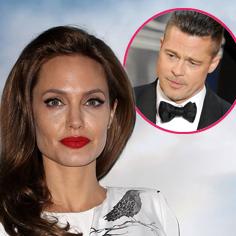 Angelina Jolie doesn't have a lot of female friends — and it has thrown her into a bridesmaid "crisis" in planning a wedding with longtime fiance Brad Pitt, RadarOnline.com has exclusively learned.
Jolie, 39, and her baby daddy Pitt, 50, have been engaged for more than two years, "and they might let a lot more time go by before tying the knot because she doesn't have any close women pals she can call on to stand up for her at the ceremony," a source told Radar.
Article continues below advertisement
And incredibly, the glamorous star might wait for their daughter Shiloh, 8, to grow into the duty, the source revealed.
"Angelina's told Brad that they can't marry until Shiloh's old enough to be her bridesmaid," the insider revealed.
According to the source, Jolie is close her Maleficent co-star, Elle Fanning, 16, has palled around with actress Bella Heathcote, 27, and enjoys her brother James Haven's girlfriend, Ashley Reign, "but she doesn't really have a special girlfriend in her own peer group who's been friends with her for years."
Jolie, who allegedly broke up Pitt's marriage to Jennifer Aniston, admitted in 2012 that she only had a few female friends. She told Marie Claire magazine that Pitt is who she leans on, saying, "I don't have a lot of friends I talk to. He is really the only person I talk to."
The star's revelation caused Aniston's BFF, comedian Chelsea Handler, to joke that Jolie doesn't have a lot of female friends "cause you're a f*cking c**t…you're a f*cking b**ch."
Meanwhile, the source explained, "Angie's just one of those women who prefer the company of men."
And that means double dates are as problematic for the screen sex symbol as bridesmaids!
"Angelina is fighting with Brad over his wish for them to double date with Uma Thurman and Quentin Tarantino, because she knows Uma can't stand her," the source added.