Secretly Married… Already? Angelina Jolie's New Ring -- On Wedding Finger -- Sparks Rumors Of Secret I Do's With Brad Pitt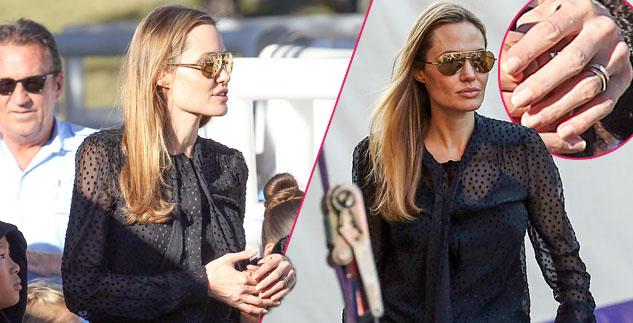 It's the wedding the world has been waiting for. But did it already happen?
Rumors that Brad Pitt and Angelina Jolie have secretly tied the knot are abuzz after the A-list beauty was spotted wearing a new bauble on her wedding ring finger while shopping in Bondi Beach, Australia, on Sunday, September 29.
The Maleficent actress has been wearing a gold band on her left ring finger since April. Once the wedding ring of Pitt's great-grandmother, it was said to symbolize "their impending marriage," and act as a less-flashy substitute for the $250,000 diamond engagement ring he gave her in April 2012.
Article continues below advertisement
But the second new ring, a thicker, lighter band, has not been seen in photos before Sunday.
Could Brangelina have pulled off a secret ceremony?
The couple reportedly acquired their marriage license in late February, which required them to wed within 90 days.
At the time, the couple's florist, Lucille Michel, claimed they were planning a May ceremony at the Chateau Miraval estate in France.
That month passed without a peep about nuptials, as Jolie revealed that she'd undergone a double mastectomy.
Then, in June, the Supreme Court struck down the Defense of Marriage Act, which Pitt and Jolie had previously used as ajustification for delaying their trip down the aisle.
Last Monday, eyebrows were raised when the couple was spotted shopping together at a Hong Kong jewelry store, where Pitt allegedly splurged $300,000 on gifts for Jolie.
Is the new bling part of that purchase? Or the sign of a bigger commitment?
Calls to Jolie's rep for comment on a possible marriage went unreturned.
Stay with RadarOnline.com as this story develops…