Remember The 'Affluenza' Teen? Ethan Couch's Rehab Treatment Being Paid For By Taxpayers, After Escaping Jail Time For Killing 4 People During Drunk Joyride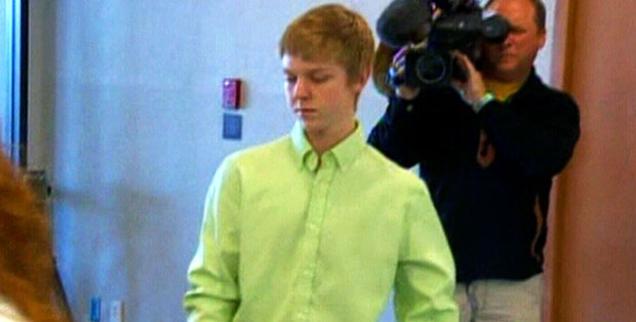 Article continues below advertisement
In what's sure to cause public outrage, just as Couch's sentence of just 10 years of probation did, taxpayers are footing the bill for the teen's cushy $438,000 per year treatment.
"Recently a judge ruled that the teen should be sent to North Texas State Hospital in Vernon. The hospital's rehab program charges $700 a day, but since it is a partially state-funded institution, Couch's parents would only be charges $38 per day for their son's treatment," Breitbart contributor Kenneth Webster said.
"Thanks to taxpayers, Couch's rehab bill has been dropped from $438,000 annually to only $13,870."
As RadarOnline.com reported, Couch previously attended the Newport Academy, a high-end rehab center in Calif. that gives patients the opportunity for equine assisted psychotherapy where they can ride horses, a state-of-the-art gym facility, mixed martial arts lessons, opportunity for massages and cooking lessons.
Article continues below advertisement
On top of the four victims who were killed by Couch's reckless drive in his pickup truck following an alcohol-fueled party at the mansion his father gave him, 13-year-old Lucas McConnell was injured and his family has filed a civil lawsuit against the Couch family in which they are hoping for a jury trial.
At least five other families recently settled with Couch's affluent parents, Fred and Tonya.
The latest development in the McConnell suit is that Texas Judge R.H. Wallace Jr. has ordered Couch's attorneys to hand over the records of psychologist Dr. Dick Miller, who diagnosed Ethan with the "affluenza."
The judge also ordered records from the private Calif. facility where Couch is believed to have been treated for substance abuse.
Couch's legal team made it clear they plan to appeal the order, but will have to do so before the June 27 deadline.
"The proper mechanism to have a higher court review an order of this type is a petition for writ of mandamus (or simply mandamus). A mandamus is like an appeal but can be filed in the middle of a case from an order related to discovery," Couch's attorney, Michael Yanof, told RadarOnline.com.
"A mandamus would be filed because the records of, and information to, Dr. Miller are confidential or privileged. The records and information were privileged as he was hired by Ethan's criminal defense lawyers as a consultant to the lawyers."
Stay with RadarOnline.com for more developments in the civil lawsuit against Couch . . .