Drunk Teen Driver Ethan Couch Could Wind Up In Jail For 3 Years, At Center Of 5 Civil Suits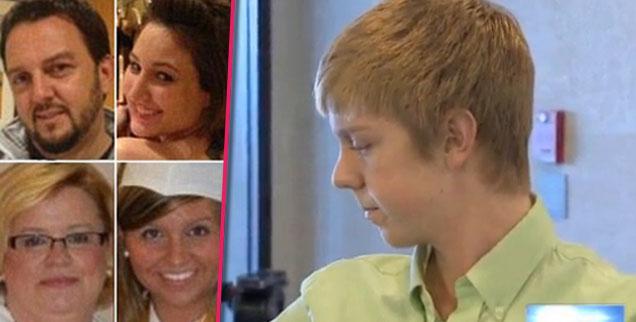 Ethan Couch isn't out of the woods just yet.
The 16-year-old Texan, who sparked a national controversy after Texas Judge Jean Boyd sentenced him to just 10 years' probation and rehab in his drunken driving deaths of four people based on his "affluenza" defense, faces further trouble in the form of five civil suits tied to the crash, and a renewed effort by local prosecutors to see he lands in jail.
Joe Shannon, Tarrant County District Attorney, has moved to have Couch jailed in connection with two counts of intoxication assault linked to the two teens injured while riding with the inebriated youth, Soliman Mohmand and Sergio Molina, according to the The Fort Worth Star-Telegram.
Article continues below advertisement
Shannon told the paper via email he has petitioned Judge Boyd to "incarcerate the teen on the two intoxication assault cases," as "during his recent trial, the 16-year-old admitted his guilt in four cases of intoxication manslaughter and two cases of intoxication assault.
"There has been no verdict formally entered in the two intoxication assault cases. Every case deserves a verdict."
If Couch was jailed in the intoxication assault cases, he would serve three years in a juvenile facility and get out by his 19th birthday at the very latest.
Dallas criminal lawyer Kimberly Priest Johnson speculated to the paper about the unusual move, saying the "juiciness" of the case is "probably fueling the fire of the district attorney's office, feeling like maybe they have a little more power going before the judge and asking for jail time."
Johnson said she'd be "surprised" if Boyd put Couch in jail at this point, due to her previous sentencing in the case.
Article continues below advertisement
"After she's already given probation for the manslaughter charge, then to turn around and give jail time for the assault charge? That doesn't make sense," she said. "I'm sure she stands behind the sentence she gave and has her reasons for it."
As we previously reported, Couch blew a .24 -- three times the legal limit for an adult -- and tested positive for Valium, three hours after he killed four people (Pastor Brian Jennings, 41; Hollie Boyles, 52; Shelby Boyles, 21; and Breanna Mitchell, 24) in Burleson, Tex. June 15, running them over in his red Ford F-350.
Two boys in the back of the truck -- Mohmand and Molina, both 15 at the time -- also suffered severe injuries, leading to five civil suits filed in the past four months
Of those who perished, the family of mother and daughter Hollie and Shelby Boyles have asked for more than $1 million, while the mother of Breanna Mitchell, and wife of Pastor Brian Jennings, are seeking unspecified damages in the deadly crash. The parents of Lucas McConnell, Jennings' passenger who was also hurt in the incident, is seeking unspecified damages, while the family of Sergio Molina, who suffered major brain injuries, leaving him unable to speak or move, is asking for $20 million in damages.
Article continues below advertisement
All of the suits name Couch's father Fred, and his company Cleburne Metal Works along with Ethan. The families of McConnell, Jennings and Mitchell have also named his mother Tonya in their suits, saying in legal papers that both parents "knowingly allowed Ethan, a minor with previous alcohol offenses, to operate a vehicle that evening."
Much has been made in the case of the affluenza defense, as it was revealed that Couch was virtually left unsupervised by his wealthy parents, who themselves have had legal issues in the past.
Stay with RadarOnline.com for more news on this story as it breaks.