Partygoer Recalls Madness, Mayhem At Mansion Ethan Couch's Father Gave Him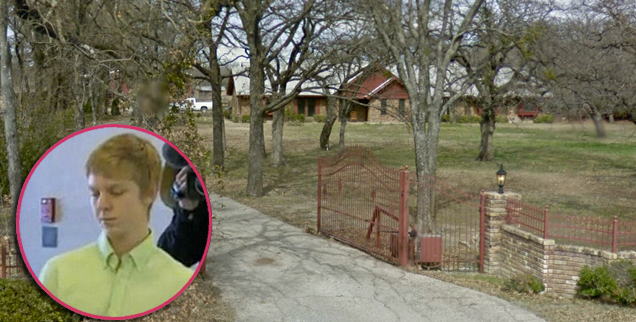 Ethan Couch -- the 16-year-old Texan whose softball sentence in killing four people and injuring two others in a drunken driving accident has infuriated many -- lived in a Burleson, Texas mansion his father gave him, using it as a party palace, RadarOnline.com has learned.
Anthony Lamanna, a partygoer to the abode within days of the deaths, described the unrestrained revelry that went on at Couch's home on Burleson Retta Rd. with no one around to chaperone.
Article continues below advertisement
"Ethan lived in this big place with a long winding drive way that went all the way round to his back yard, which had a large pool in it," Lamanna, who hadn't previously met the teen, told Mail Online. Couch "kept saying that he lived in the place alone and could do whatever he wanted. There was no furniture accept for a big couch, a wide screen TV and his Xbox.
"It definitely looked like the kind of place a teenager would live in."
Lamanna said that Couch showed little restraint during his trip to the place, as "the first thing he did was jump in the pool, with his clothes on, rip his shirt off then start downing a big bottle of vodka.
"He was really knocking it back, he must have drunk about six or seven shots in one go," Lamanna said. "That set the tone and from then on he was just boasting and trying to impress us about how much he drank and how much he partied. Ethan was just playing drinking games by himself and boasting … no one else was even drinking."
Article continues below advertisement
He said that Couch, who also tested positive for THC and Valium during the time of his accident, "boasted getting big amounts of marijuana delivered to his house."
Lamanna said he didn't come away with a positive first impression of his well-to-do peer.
"Ethan was the kind of person who would pick on people to try and make himself look big and feel better," Lamanna said. "I really didn't like him. I could tell he was bad news and we got out of there after about an hour. I hated it there and wanted to get out as soon as we could."
The report comes as rage continues to grow about Couch's successful legal defense on an argument centered around "affluenza," a sense of entitlement so extreme (due to his family's riches) that he had no concept of consequence. Couch's magnate father Frederick gifted the property to his son after his divorce from Tonya, Ethan's mother. According to the report, Couch also got a car from his father three years ago, despite being just 13 at the time. The family's wealth comes from their ownership of Cleburne Sheet Metal, a Ft. Worth-based company with about 30 employees.
Article continues below advertisement
As we previously reported, Couch blew a .24 -- three times the legal limit for an adult -- three hours after he killed four people (Pastor Brian Jennings, 41; Hollie Boyles, 52; Shelby Boyles, 21; and Breanna Mitchell, 24) in Burleson, Tex. June 15, running them over in his Ford F-350. Two boys in the back of the truck -- Soliman Mohmand and Sergio Molina, both 15 at the time -- also suffered severe injuries.
While prosecutors were pushing for Couch to spend 20 years in jail, Couch's defense attorney Scott Brown convinced District Judge Jean Boyd to sentence the teen to just 10 years of probation, in part citing the diagnosis of "affluenza" (a term the American Psychiatric Association does not acknowledge). Couch will also have to attend a pricey rehab in Newport Beach, Calif.
The shockingly-soft sentence has trickled into the Lone Star State's gubernatorial race, as both candidates, Sen. Wendy Davis and Attorney General Greg Abbott, have publicly condemned the verdict, with the former telling WFAA-TV she's looking to examine aspects of the case "from a legislative perspective," and the latter telling KTVT-TV he believed the verdict was "outrageous."
Watch the video on RadarOnline.com