Exclusive
BFFs Forever? Sonja Morgan Reacts To Ramona Singer's 'Incestuous' Comment: 'Maybe There's Jealously… She Isn't Happy.'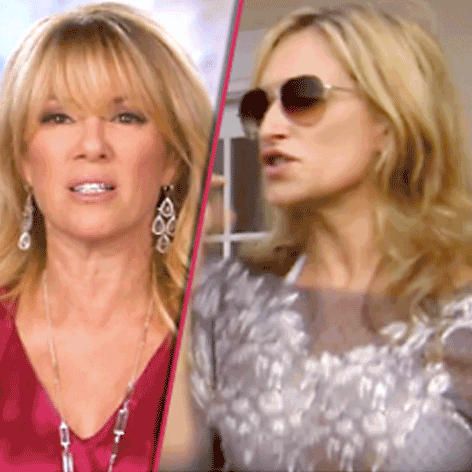 The ladies of The Real Housewives of New York City are famous for their gossiping and backstabbing, so when Ramona Singer's claws came out this week attacking Sonja Morgan, it was no surprise.
But in a shocking twist of reality history, despite her signature meddling, Singer's BFF is still not going to turn her back on her.
"She's going through something obviously. She's always been there for me before, so I have to be there for her now," Morgan told RadarOnline.com.
Article continues below advertisement
"My friend Ramona, I don't know why she chose in a scene without me to talk about me."
Morgan points to Singer's own marital problems for her spilling the beans on her supposed bestie's private financial matters and dating life on Monday night's episode.
"He could be your son. It's incestuous!" Singer told castmates Heather Thomson and Kristen Taekman of Morgan's relationship with much-younger beau Ben Benalloul. "She thinks between her legs instead of her head sometimes."
"Sonja and I aren't getting along, and I don't want to be around her … don't repeat this … but she was supposed to sell her townhouse, but she never did. Selling the house isn't going to get her enough money. This is not good — it's a sad state of affairs," Singer added.
Despite the on-camera evidence, Morgan refuses to believe Singer talked behind her back maliciously. And her cheating husband Mario Singer had a lot to do with her venomous words.
Article continues below advertisement
"I don't think those are her true colors. I think she's been under a lot of stress," Morgan added. "And those are things that happen when you wish you could maybe be happier. Maybe there's jealously… I think she was upset with Mario. I think she isn't happy."
And she has good reason. Singer has been fooling around behind his wife's back with a 34-year-old Kasey Dexter and even confessed in a previous episode "the best cheaters are the ones who get away with it!."
"She's not happy with that," revealed Morgan.
But it's no excuse for her behavior, Morgan said. And it's Ramona being Ramona.
"We all know Ramona doesn't know the definitions to the words she uses," she added.
"I don't know what she meant by incestuous. I'm not related to Ben. I don't have any relatives in Morocco. He's a very sophisticated young man, we talk business, we have fun and we travel.
"The truth is I've never been happier," revealed Morgan. "I'm feeling so happy. I'm dating a hot young guy and she has to call his mother to get s**t on him and that's not okay.
"I'm going to try to be there for her, but I have to set boundaries like with kids.
"We're always going to be close," she continued. "Those aren't her true colors and she's going through a hard time."