Exclusive
She Has A Type! Mario Singer's Fame-Hungry Mistress Caught On Camera Throwing Herself At 'Million Dollar Listing' Star Ryan Serhant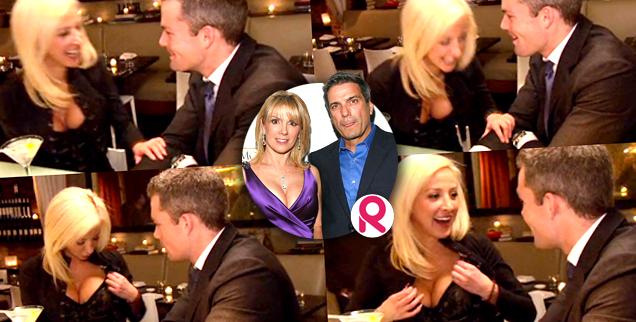 Article continues below advertisement
In a video uncovered by RadarOnline.com, the platinum blonde identifies herself as a trainer and is the same woman who admitted to having an "unhealthy obsession" with her married boss who she sued for sexual harassment when the affair fizzled.
The two had a consensual sexual relationship, but Dexter claims her job was at stake if they didn't have sex on the gym equipment.
Despite the protests in her lawsuit, Dexter is certainly not shy when it comes to the number of sexual innuendos she uses to lure Serhant that start when she suggests body shots instead of tequila shots.
Watch the video, below:
hulu id=fltgsuy8cyesjz75kyitlw width=512
"Do you have a body for body shots?" asked Serhant.
"Oh yeah, I'm a trainer, honey," she responded.
"I taste like candy."
"These things just pop out at any time," Dexter added, of her enhanced assets.
"Do you want to come home and see my snake?" Serhant quizzed her.
"I love snakes," Dexter confessed, before she put the receipt between her breasts so Serhant has no choice but to retrieve it -- motorboat-style -- of course.
Perhaps Singer should listen up! Serhant summed up his encounter: "Kasey's the kind of girl you go out with for a night to have a little fun with. Am I going to fall in love with her? Am I going to marry her? I don't think so.