Exclusive
Mario, Beware! Mistress Of Ramona Singer's Hubby Went To Pysch Ward With 'Unhealthy Obsession' Over Last Boyfriend & Sued Him For Sexual Harassment When They Split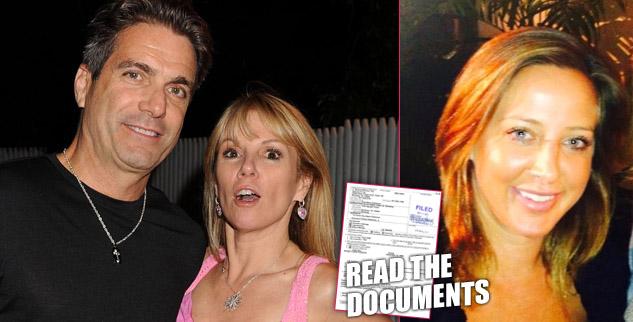 Article continues below advertisement
Dexter filed an explosive sexual harassment lawsuit against her former lover Gregory Peters, who was her boss at Manhattan's ritzy La Palestra gym, on November 12, 2013.
According to court documents obtained by Radar, Dexter interviewed for a job at the gym in May 2012, despite the fact that she had no valid personal trainer license. Peters "specifically hired Dexter because he was attracted to her, despite her lack of work experience," the documents claim.
As such, when Dexter started working at the gym Peters soon required her to "trail" him, the documents claim, and suspended her personal training pay.
"Very soon after," the documents state, they "began a consensual sexual relationship."
Peters "would ask Dexter to have sex with him on various pieces of equipment and training tables at La Palestra," the complaint claims. "Even though the sexual relationship was consensual, Dexter still hesitated and/or protested having sex on the equipment," but her boss "would convince her to have sex on the equipment because he was the manager and could make Dexter a great trainer."
Article continues below advertisement
Dexter admitted that she "developed an unhealthy obsession with him," according to the claim, yet she still "continued to engage in the sexual relationship."
Outrageous Extravagance! The Secret Life Of Socialites Revealed
Then in early July 2013, the documents state, Peters "realized that this escalating affair could negatively affect his marriage and abruptly ended the relationship."
Apparently, that sent Dexter into a tailspin.
Article continues below advertisement
"The end of the relationship and interactions with Peters at work continued to affect Dexter emotionally and psychologically," the complaint explains, "and as a result, in or around July 2012, Dexter was rushed to the Lenox Hill Hospital emergency room for severe panic attacks."
How Housewives Stars Go From Home To Hot – See The Photos
Dexter asked bosses to make sure she wouldn't interact with Peters at work, to no avail, the documents claim. In the meantime Peters allegedly "continued to repeatedly call Dexter and leave threatening and nasty messages, such as, 'I wish I had never met you' and 'I regret the day that I ever hired you.'" He also told her to "Leave the company -- resign already," and "Become a stripper, that's what you're good at," according to the complaint.
"But Defendant Peters would then also leave Dexter messages saying that his wife was away for the weekend and that he missed her," the documents claim.
Cracking under the pressure, Dexter claims she "voluntarily checked herself into St. Luke's Psychiatric Ward," around September 1, 2012, where she was kept for roughly ten days.
Doctors allegedly ordered her not to contact Peters, but "Plaintiff simply could not resist" and Peters "failed to heed doctor's advice" to cut off contact with her.
Article continues below advertisement
Eventually, Dexter was fired in November 2012, and by the end of the month she hired an attorney to file the sexual harassment lawsuit.
In a response, Peters and La Palestra denied the majority of her charges, insisting that all of Peters' interactions with Dexter were consensual.
According to court documents, the case is still ongoing, with Peters and Dexter scheduled to meet with a mediator on February 11.
Peters did not respond to Radar's requests for comment.
Now, Dexter has reportedly moved on to another married man, Mario. According to Page Six, she was by his side in the Hamptons last week when cops where called over an alleged domestic dispute with his estranged wife, Ramona.