Exclusive
Cooking Up A New Money Making Scheme! 'Real Fraudwife' Teresa Giudice & Husband Joe Now $elling Meatballs; Business Partner Declares 'They're Good People'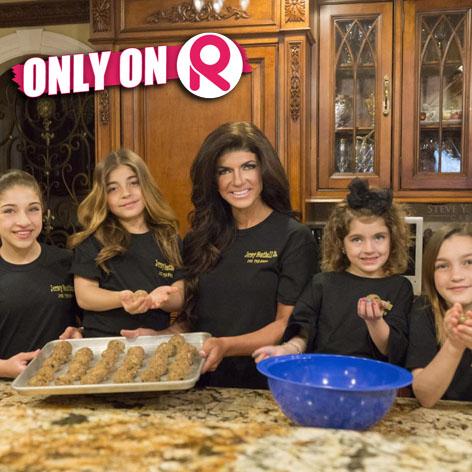 Article continues below advertisement
As Radar previously reported, the Giudices were charged with 41 counts of fraud and tax evasion and after pleading guilty and ultimately taking a plea deal, both face large fines and prison time.
Teresa is staring at 27 months in prison, while husband Joe could get 46 months and is likely be deported back to Italy.
But Centrall is nonplussed by the plea deal the supposed "Real Fraudwife" and her husband copped!
Article continues below advertisement
The New Jersey businessman insisted that he's not expecting any money from his business pals.
READ: The Jaw-Dropping List Of The Giudices' Debts
"I own the business, I'm not worried about anything from the because I'm not expecting anything from them," Centrall said.
"We're not business partners. I don't get involved in their financial stuff. Money wise, I don't talk to them about things."
"I noticed some businesses are staying away from them," he added.
But, "they've been good and they didn't do no bad to me. Joe has already got his hands dirty, showing my cooks how to make the meatballs and sauce.
"There is nothing better than learning from the person who wrote the cookbook!"
As we previously reported, the original bank and bankruptcy fraud charges centered on the Giudice's inability to file tax returns from 2004 to 2008.
Law enforcement authorities claimed the controversial couple filed fraudulent mortgage and other loan applications from 2001 to 2008, a year before their show debuted.
Article continues below advertisement
READ: The Jaw-Dropping List Of The Giudices' Debts
Prosecutors said the couple submitted fake W-2s, tax returns and bank account information to lenders.
They also alleged the Giudices received about $4.6 million in mortgages, withdrawals from home equity lines of credit and construction loans.
"Everybody makes mistakes in life," Centrall defended, dismissing criticism of the pair.
"Everything is out there and for me, they don't do no wrong. There is no bad business between us."
Would you go into business with the Giudices? Tell us in the comments, below.