Exclusive
Crime DOESN'T Pay: Teresa Giudice Book Sales Drop Whopping 97% In Light Of Fraud Case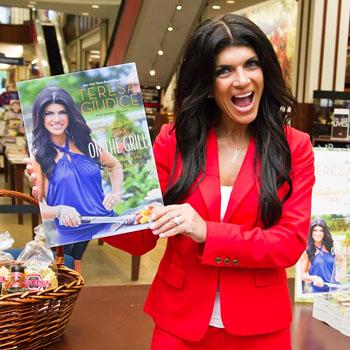 Book 'em has a whole new meaning for The Real Housewives of New Jersey star Teresa Giudice these days.
As the reality star and best-selling author awaits sentencing on charges of fraud, RadarOnline.com has learned that she can't depend on her literary ventures to pay her legal bills: Industry records show that sales of Giudice's books have been dismal since her legal troubles unfolded, with sales of her most recent title falling more than 97% as the extent of her scam unfolded!
Article continues below advertisement
According to figures from Nielsen BookScan, Giudice's book, Fabulicious! On The Grill sold 5,920 copies from its May 1, 2013, release date until the end of the year.
From January to now, however, it's sold a PALTRY 80 copies — a more than 97% decrease in sales rate!
READ Just How Far Her Book Sales Have Fallen
Sales of her other, older copies have been similarly unimpressive in light of her legal issues. Fabulicious! Fast & Fit sold at a rate of just over 1,000 copies per month up until the first of this year, amassing 20,875 copies sold since its May 2012 release. From January until now, however, it's sold only 125 copies. That's an 88% decrease in sales rate.
Fabulicious! Teresa's Italian sold 115 copies this year, a sad shadow of the 42,000 it's sold since its May 2011 publication. And Skinny Italian sold just 145 copies this year, compared to 94,000 sold since May 2010, all according to the Nielsen BookScan U.S. Consumer Market Panel, which currently covers approximately 85% of the print book market and continues to grow.
It's unclear how much Giudice, 41, makes from the sale of each book, but it is certain that her fortunes are fading in light of her legal issues.
Article continues below advertisement
GALLERY: The Giudice's 30 Most Shocking Quotes About Fraud & Finances
As RadarOnline.com has reported, the dire state of Giudice's finances has left her with little choice but to sell her Towaco, New Jersey, mansion in the near future.
"Her book sales have been very low, and Teresa hasn't been offered any gigs for paid promotional appearances either," the source continued. "It's a foregone conclusion, Teresa absolutely will have to sell her beloved New Jersey mansion. She's terrified she could end up homeless."