Teenage Girl Charged With 10 Felonies Facing Life Behind Bars After Wild Shooting Spree With Boyfriend That Killed One Sheriff, Wounded Another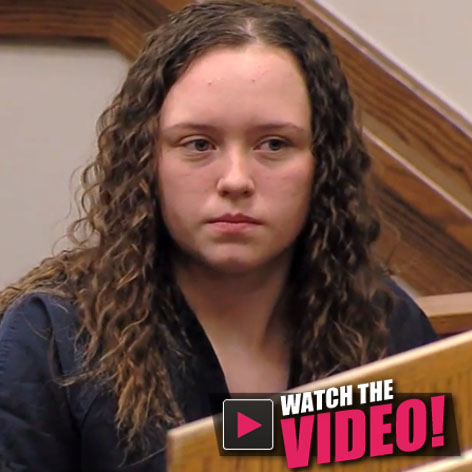 It's a modern day Bonnie and Clyde situation, with a teenage girl being charged with murdering a police officer after she went on a shooting spree with her boyfriend.
17-year-old Meagan Grunwald appeared in a Utah court on Monday to face 10 felony and two misdemeanor charges including aggravated murder for the death of Utah County sheriff's Sgt. Cory Wride and attempted aggravated murder for the wounding of Utah County sheriff's Deputy Greg Sherwood.
Article continues below advertisement
Her attorney claims "She was scared to death," and manipulated by her boyfriend and since she's been charged as an adult is "a minor in an adult world," according to the Salt Lake Tribune.
However, prosecutors claim that she was an integral part of the murder streak that began when a sheriff made a routine stop to check on a car pulled over on the side of the road and ended with one dead police officer, one wounded police officer and a dead alleged shooter.
Office Wride reportedly stopped to check on a Toyota Tundra pulled over on the side of the Utah road where Grunwald was sitting in the driver's seat on January 30, 2014.
When he took her license back to the patrol car to verify the information, "the man in the passenger seat allegedly opened the back sliding window of the truck and opened fire," the paper reported.
youtube
According to Utah County investigator Sgt. Scott Finch's testimony from the April preliminary hearing "seven gunshots were fired" toward the police car and two struck Wride.
Article continues below advertisement
That is when the pickup tore away and prosecutors claim that there was a high-speed chase that led through two counties.
As Deupty Greg Sherwood caught up with the truck, Grunwald's boyfriend, Jose Angel Garcia-Jauregui, allegedly fired into his car, hitting Sherwood but not fatally injuring him.
They pair continued to flee and eventually the car was disabled after driving over a police spike track, but the suspects carjacked another car at gunpoint. They drove away again but that car too was disabled by tires spikes and there was an exchange of gunfire and Garcia-Jauregui was wounded. He passed away in the hospital the next day.
Evidence previously presented show that Grunwald tested positive for methamphetamine in her blood after the shooting spree.
"Garcia-Jauregui was paroled in December 2012 from the Utah State Prison after serving five years of a one-to-15-year sentence for 2008 convictions for attempted murder and aggravated assault," the Salt Lake Tribune reported.
Since Grunwald is a minor she is not eligible for the death penalty, and is being held on a $1 million cash-only bail, but prosecutor said that severity of the crime warranted the extensive charges.
"We understand that she's a young girl," Utah County Attorney Tim Taylor said. "But young people can still commit horrific crimes."