Prison Justice? White Supremacist Charged With Killing Teen Babysitter Stabbed While Behind Bars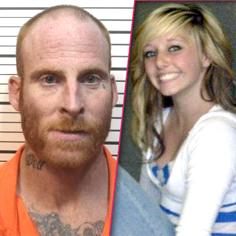 A white supremacist charged with the brutal slaying of his teenage babysitter was stabbed in prison as he awaits trial for her murder.
Eric Millberg, 37, is charged with four counts in the death of 16-year-old Alexis Ramussen: first-degree felony child abuse homicide, obstructing justice, desecrating a body and having unlawful sex with a minor.
He is a member of the gang Silent Aryan Warriors as was his cellmate, according to the Salt Lake Tribune.
Article continues below advertisement
Millberg was stabbed multiple times in the Utah State Prison and was taken to the hospital on Monday.
According to Steve Gehrke, the spokesman for the Utah Department of Corrections, investigators suspect his cellmate in the stabbing, as he was the only other person in the cell at the time and no one else had access.
Investigators found a "sharpened piece of metal" that they believe is the weapon.
Alexis was the babysitter for Eric and his wife Dea Millerberg when she was murdered on September 10, 2011.
According to Dea's testimony at Eric's pretrial hearing in April, the couple became friends with their babysitter and said they drank alcohol and smoked marijuana together and then the teenager began requesting harder drugs like heroin and methamphetamine, with Dea even teaching her how to smoke it out of a light bulb.
She said in court that a month before Alexis' death she became sexually involved with the couple.
Article continues below advertisement
"Eric and I started kissing and having sex," Dea testified. "Then Alexis jumped in."
During her testimony she said that on the night of September 10, 2011 Alexis was supposed to babysit for the couple's young children but when she arrived Dea injected her once with heroin and twice with meth.
She then said Alexis was "as high as she had ever been," and the babysitter and Eric had sex. Then the drugs had a negative effect on the teen who started "freaking out" and she took a bath in the couple's master bedroom.
Dea said they helped Alexis out of the bath and left for half an hour while she was in a bedroom. They returned and found Alexis unresponsive.
"She wasn't breathing. She had mucousy stuff coming out of the right side of her mouth," she said, and said she tried to resuscitate the girl.
Eric was on parole at the time and she had outstanding court dates for her involvement with prescription drug fraud and child endangerment cases.
She said they dressed the naked body of Alexis and put her body into a foot locker then put that in the trunk while they drove around looking for a place to dump her body.
Police found the body six weeks later after a tip from one of Eric's fellow gang members gave them a confidential tip about her whereabouts.
Gehrke said there is no indication that Millerberg's stabbing is related to Alexis Ramussen's death and that the Unified Police Department is investigating the incident.