Teen Skylar Neese Brutally Murdered By Her Two Closest Friends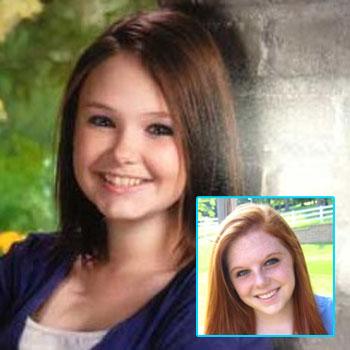 The brutal murder of teenager Skylar Neese by her two closest girl friends has shocked her hometown and the case is entering the sentencing phase after one of the girls confessed to stabbing her and lying about it for six months.
Skylar, a West Virginia teen, disappeared on July 6, 2012 and for six months her family and friends searched for her and pleaded for her return.
Rachel Shoaf and another unidentified teen had been her best friends for years and they cried with her parents and helped look for their missing friend, all the while knowing they were guilty of her murder.
Article continues below advertisement
Just 16-years-old, Skylar had long brown hair and was last seen in her home after returning from her shift at a fast food restaurant. She was caught on surveillance video in her apartment complex climbing out of her bedroom window.
When Skylar didn't return that night or go to school or work the next day and her parents alerted the police and a six-month long search for her began.
Rachel and the other girl, who has not been identified because she has not been charged as an adult yet, were constantly with Skylar's parents and were frequent visitor to the Neese home.
"She walked in the door when she came here. She didn't even knock. She was like our daughter," Dave Neese told the Huffington Post about their relationship with the unidentified girl.
The girls mislead investigators and Skylar's parents until January when Rachel finally confessed that they had lured their friend out with them, driven her to a remote area in Wayne Township, Pennsylvania where at an agreed upon time they stabbed her repeatedly.
Article continues below advertisement
During the May 1 hearing prosecutor Marcia Ashdown said the girls tried to bury Skylar but were unable so they covered her body with branches.
Dave Neese said the fact that the girls were close to his daughter and their family made it more painful.
"And not to know someone is more scary than knowing them, because now you know what they're capable of."
Her mother, Mary Neese, said the girls didn't tell the truth and that is how they were finally busted.
"One after another, just lie, lie, lie," she said.
"Did the same thing to the police. That's how the police got onto them, because they would forget what they told them at one point and tell them another, totally different story."
Classmates of the girls told authorities that they overheard them talking about the murder but didn't believe that they were telling the truth.
The unidentified teen posted a picture online with Skylar and wrote a note begging her to come home, despite being involved in her disappearance.
Article continues below advertisement
"Sklylar, sorry I haven't posted in awhile school has been taking up all my time. I miss you so much in school!
Me and Rachel miss you so much especially at lunch, we sit at a lunch table alone. Come back so we don't look like loners anymore! Lol School is so hard without you, actually everything is hard without you. I seriously think about you 24/7 and miss talking to you on the phone day and night. I know you wouldn't like some of the things that are being said lately...so please come home and prove them all wrong! I've been doing absolutely everything I can to help and I know you'd be thankful for that. Idk why you haven't come home yet but if you're scared that people will be mad at you, they won't be! We just want you home safely. I miss you so so so much more than you could ever imagine. And you will ALWAYS ALWAYS ALWAYS be my best friend. Remember that."
Rachel pleaded guilty to second degree murder on May 1 and the deal was for a 20 year sentence but Judge Russell Clawges said he believed she could have been charged with first-degree murder and wanted to speak with Skylar's family about the punishment.
Skylar's killer could be facing up to 40 years in prison. The prosecutor has not announced the charges for the second teen involved in the murder.