Exclusive
Mixed Race Woman Who Is Marrying Jailed White Supremacist Is A Mom With Three Kids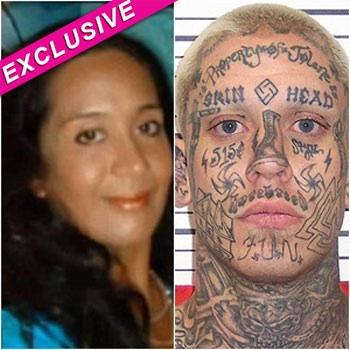 By Cliff Renfrew - RadarOnline.com Reporter
The woman who is planning to marry Nazi-loving tattoo covered imprisoned murder suspect Curtis Allgier is a divorcee with three kids, RadarOnline.com has learned.
And like her white supremacist fiancée, Erica Herrera - whose real name is Erica Simpson - is actually also covered in tattoos.
On her myspace page Erica claims that her kids are her "little angels" and that she "loves sun, hot weather, working-out and shopping with other people's money."
Article continues below advertisement
Using the moniker $elf Made, Simpson describes her life on her webpage: "I'm a very proud parent of three of the most perfect angels in this world and I love them to death!They are my pride and joy and the only reason I get up everyday excited just to get to be with them!
"I've been blessed to always be a stay at home mom and have never had to be away from them;yea there're really spoiled and they deserve the world.So thats what I'll always try to provide them with. About me, besides being a great wife and mother, I'm a very fun-loving,outgoing person with a great sense of humor 'so I hear, lol.
"I love animals and we have a boxer, french bulldog and a bad-ass cat with 16 toes! I have always been fortunate enough to have what I want throughout my life, kinda like my kids! I love the sun, hot weather, working-out and shopping with other people's money!
"I was born and raised in Cal. and the last ten years I've been between Seattle and Sac. I'm glad to say that Cal. will be our home!"
Simpson also claims to earn between $75, 000 to $100,000 a year and describes herself as a Catholic who likes to drink and is bi-sexual.
Article continues below advertisement
As RadarOnline.com previously reported the mixed race single mother gushes about her anti-social fiancé as a "kind hearted good person" and defends his racist leanings by saying: "That's obviously not what he is if he's marrying someone that is of a different background than he is."
News of her pending marriage to Allgier sent shockwaves through America because he has a lengthy criminal record and currently awaits murder charges in connection with the shooting of corrections officer Stephen Anderson in 2007.
But that has not stopped the bride-to-be - who is half-Hawaiian-half Hispanic - from falling in love with her Nazi loving criminal beau who she believes is innocent of the shooting.
She told ABC 4 News in Salt Lake City: "We've corresponded the whole time he's been moved, transferred. Been though his ups and downs with his exes, what have you. Just as friends.
"He's a very sweet, loving - he's a really kind-hearted good person. All around a good person."
Article continues below advertisement