Exclusive
Mixed Race Woman To Marry White Supremacist In Jail - Calls Him 'Kind Hearted Good Person'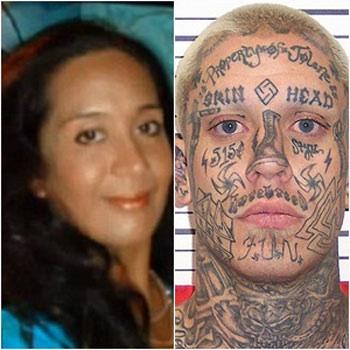 By Cliff Renfrew - RadarOnline.com Reporter
Would you bring this man home to meet your parents?
Well, Erica Herrera has gone one step further as she plans to marry imprisoned tattoo covered white supremacist and accused killer Curtis Allgier.
And despite his swastika emblazoned face and extensive criminal past Herrera insists her fiancé is a "kind hearted good person."
Allgier has a lengthy criminal past with convictions for burglary, theft, forgery plus illegal concealed weapons and at present he awaits murder charges in connection with the shooting of corrections officer Stephen Anderson in 2007.
Article continues below advertisement
But that has not stopped pretty Herrera - who is half Hawaiian-half Hispanic - from falling in love with her Nazi loving criminal beau.
And despite her own mixed heritage she defended his racist leanings by saying: "That's obviously not what he is if he's marrying someone that is of a different background than he is."
The couple met before he was locked-up and charged with murder.
Herrera told ABC 4 News in Salt Lake City: "We've corresponded the whole time he's been moved, transferred. Been though his ups and downs with his exes, what have you. Just as friends.
"He's a very sweet, loving - he's a really kind-hearted good person. All around a good person."
Herrera, who is from Sacramento in California, believes that her husband-to-be is innocent of shooting Anderson and is not capable of killing anybody.
The couple is due to get married on August 8, 2011, at Salt Lake County Jail where Allgier is being housed.
The ceremony will take place with the couple divided by a glass wall and there will be no honeymoon period although they plan for him to get moved to a prison allowing conjugal visits.
Article continues below advertisement