'See Ya On The Way Down!' Charlie Sheen Rips 'Village Idiot' Rihanna After Restaurant Rejection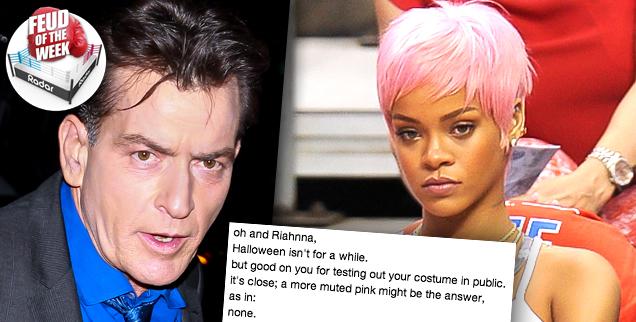 Charlie Sheen has a new enemy: Rihanna.
The former Two and a Half Men star trashed the "We Found Love" singer Thursday, calling her a "Village idiot" in an elongated Twitter post after the Barbadian beauty blew off the actor's request for a quick meet-and-greet as they both dined at Giorgio Baldi in Santa Monica Wednesday evening.
Sheen said he was at dinner with his girlfriend Brett Rossi upon learning the singer was there. (He added that "personally he couldn't pick her out of a line-up at gunpoint.)
Article continues below advertisement
The "Diamonds" singer declined Sheen's request, the actor said, by telling them that there were too "many paps outside and it just wasn't possible at this time.
"At this time? AT THIS TIME?? lemme guess, we're to reschedule another random … 11 million to 1 encounter … with her some other night…?"
Sheen, 48, said he personally couldn't care less that he didn't get to meet the "Stay" singer, likening a possible pow-wow to "84 interminable seconds of chugging Draino." (He cracked, "I'm guessing you needed those precious 84 seconds to situate that bad wig before you left the restaurant.")
But the 26-year-old "Umbrella" beauty's holier-than-thou attitude rankled Rossi, who Sheen said "was NOT OK with" being brushed off, "Bday or not."
Sheen continues, "Sorry we're not KOOL enough to warrant a blessing from the Princess" — "or in this case the Village idiot" — noting that despite his longtime celebrity status, he's always taken the time to be warm and cordial to fans and industry peers with a show biz etiquette that's been "established over time to exist radically in concert with a code of gratitude!"
Article continues below advertisement
Sheen — who hasn't been this vitriolic since his infamous falling out with Chuck Lorre — then went in on the singer's funky look, as she's currently sporting bright pink tresses.
He wrote, "oh and Riahnna, Halloween isn't for a while. but good on you for testing out your costume in public. it's close; a more muted pink might be the answer, as in: none.
"See ya on the way down, (we always do) and actually, it was a pleasure NOT meeting you … clearly we have NOTHING in common when it comes to respect for those who've gone before you."