Warlock 101: Charlie Sheen Gives Career Advice To Kids At Daughters' School — Seriously!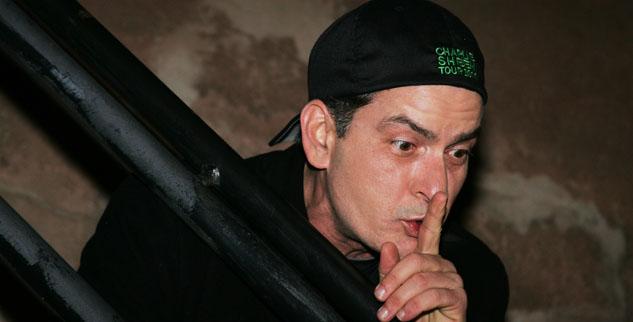 Would you want your children getting advice from Charlie Sheen?
Incredibly, the Anger Management star recently went to daughters Sam, 10, and eight-year-old Lola's elementary school and gave career advice to kids for "career day," RadarOnline.com has exclusively learned.
With ex-wife Denise Richards also in attendance, 48-year-old Sheen made a speech in front of the children, a source revealed.
"It was career day at Sam and Lola's school and at the last minute, Charlie decided he wanted to go," the source said.
Article continues below advertisement
"He arrived in morning and gave a talk to both classes that his daughters Sam and Lola were in.
"It was funny and Charlie answered questions from the kids about being a television star. The talk lasted about ten minutes and then he was gone. The other parents certainly know who he is, but the kids had no clue that Charlie was a major Hollywood actor. Now they know!"
According to the insider, Sheen and Richards, who have had a troubled relationship as divorced parents, didn't "exchange any words, as she sat on the opposite side of the room. Thankfully, Charlie didn't bring his porn star fianceé Brett Rossi along! Imagine that career advice!"
RadarOnline.com broke the story last week: the oft-troubled actor plans on going to a Los Angeles court in the next several days in a bid to slash the $55,000 a month he pays to Richards for child support of Sam and Lola.
Sheen, 48, also wants to evict Richards, 43, from the luxury home he owns and has allowed her to live in with her three children.
A source said: "Charlie hasn't spent any time with the girls in several months and thinks it's ridiculous that he continue to pay Denise $55,000 every month."
Article continues below advertisement
He hash-tagged a subsequent tweet, "#TooMuchChild$upport."
Meanwhile, the source said: "Friday was the first time Charlie had seen the girls at their school. He does talk to them on the phone, but hasn't spent any significant amount of time with them in several months. He attempted to see Sam on her birthday last week, but she had already gone to bed. He was very angry that he didn't see her."
But on Friday, we can report, he told Sam and Lola--and all of their classmates--how to be a star!