Exclusive
Rihanna Rejects Tyler Perry! Singer Avoids Rom-Com Director Because Whitney Houston Warned Her, 'Tyler's Films Are For Fading Stars'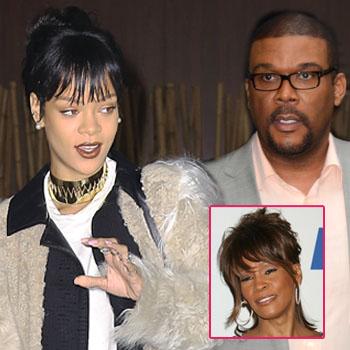 Rihanna is plotting her next movie role but is avoiding director Tyler Perry, who wants the singer to star in one of his romantic comedies, RadarOnline.com has learned.
And a big reason why is that the late Whitney Houston once warned her that Perry's films were for African-American has-beens! a source told Radar.
"Although Tyler has been courting Rihanna for a year and a half, hoping to build a movie around her, she has rejected the idea," a source close to the star's business affairs told RadarOnline.com.
Article continues below advertisement
"Rihanna has pointedly avoided meeting with him!"
According to the source, before Houston's tragic death in 2012, Rihanna, 26, met her at a party and got her take on Perry's movies, which include the Madea series, Why Did I Get Married? and the recent Single Moms Club.
"Whitney put her off Tyler by warning her bluntly that 'Tyler's films are for fading black stars, not rising ones,'" the source said.
"Rihanna so respected Whitney because in addition to being one of the biggest pop stars ever, she starred in hit movies such as The Bodyguard."
And Rihanna, also a multi-talented star, feels it will be better for her career to do something similar to the 2012 science fiction war film Battleship, for which she received glowing reviews, the source said.
"She's ruling out doing a Tyler Perry-style romantic comedy because she thinks she works better in action roles, playing the tough girl."
The source revealed Rihanna is "under a mandate" to get into another studio film before the end of the year.
But sadly for Atlanta-based mogul Perry, 44, it won't be for him!