Exclusive
It's A Date! Charlie Sheen & Porn Star Girlfriend Schedule Wedding For Fall – Even Though She's Still Married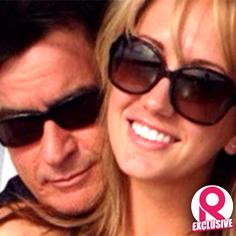 Let the countdown begin! RadarOnline.com has learned that Charlie Sheen will be making his fourth trip down the aisle on November 22, when he'll marry porn star fiancée, Brett Rossi. It's a long seven months away, but the couple can't tie the knot any sooner -- because her divorce still isn't final!
"The wedding date has been set for November 22, 2014," an insider told RadarOnline.com. "It's going to be a extremely elaborate, and Charlie has told Brett to plan the wedding of her dreams, with no cap on the budget."
Article continues below advertisement
Expect Rossi "to wear a custom couture wedding gown, nothing off the rack for her!" the source said. "This will be very different from Brett's first wedding." Indeed, the porn star has been married before, and that relationship is putting a damper on plans to start a new life with Sheen.
"They wanted to get married sooner, but Brett's divorce to her first husband hasn't been finalized yet," the insider explained. "Rather than worry about when Brett's divorce will be finalized, Charlie suggested they push it back and set the date for November."
As RadarOnline.com has reported: Rossi is currently in the midst of divorce proceedings from her husband, Jonathan Ross, who filed for divorce from Sheen's gal pal on July 18, 2013. He is representing himself in the proceedings. Rossi didn't file a response to the divorce documents until January 30, 2014, and is being represented by Sheen's famed family law attorney, Mark Gross. The couple had been married for about a year and do not have any children together.
Article continues below advertisement
Mueller was given a $500,000 marriage signing bonus, $300,000 for each year they were married, a one-time cash payout of $2.35 million for her share in Sheen's Beverly Hills mansion, and $100,000 in relocation fees. She waived her right to spousal support, but had been receiving $55,000 in child support until Brooke lost custody of the twins last year.
In total, the former reality starlet walked away from her marriage to Charlie, after less than three years, with $3.5 million.
But Rossi's already making out well for herself too. Just before Christmas, Sheen bought her a brand new Mercedes, as RadarOnline.com reported, and she also has access to Charlie's credit cards.
With a wedding on the horizon, who should expect an invite? Shockingly, Mueller is tops on the guest list! As RadarOnline.com has reported, she will be attending the wedding with their twin sons, Bob and Max.
Sheen and Rossi "both had the idea to invite Brooke to their wedding," an insider revealed. "They all get along and are one big happy family. It might be unconventional for most people, but not for Charlie's wacky world!"