Exclusive
Game, Set, Match — Capriati! Tennis Pro Jennifer Scores Legal Victory As Ex-Agent Ordered To Pay Back $500K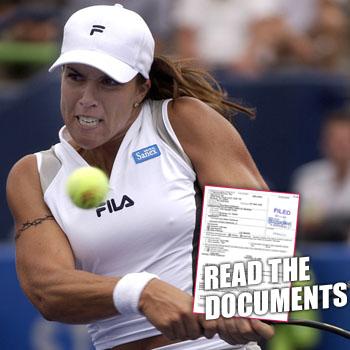 Score a legal victory for former tennis pro Jennifer Capriati.
RadarOnline.com has exclusively learned that a judge ruled in Capriati's favor, ordering her former sports agent to re-pay the $510,701.21 debit he owes her.
"The debtor has agreed to pay, over time, 100% of the amount in the dispute, without Capriati having to incur expenses of litigating the issues," court documents reveal.
Article continues below advertisement
Capriati and Sugarman came to a settlement over the debt and Sugarman will have to pay her in $1,000 installments up until 2018.
If the debt has not been paid by 2018, he will be paying $4,320 a month.
Sugarman filed for bankruptcy in February. According to documents filed by his bankruptcy trustee, Sugarman took out a $725,000 life insurance policy with Capriati as the sole beneficiary.
According to the documents, "The purpose of the Life insurance policy was to provide a form of security to Capriati in connection with repayment by the Debtor."
Sugarman will have to make payments to reinstall the life insurance policy until he has paid off the entire debt to Capariati, the docs stated.