Exclusive
Pay Up, Luv Guv! Eliot Spitzer's Long Suffering Wife Receives $7.5 MILLION In Divorce Settlement -- Documents Reveal What Else She Got In The Split From Client 9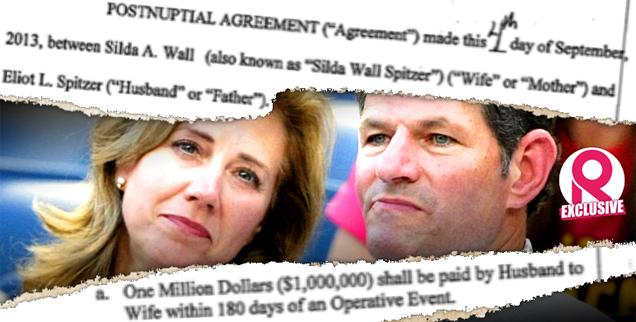 When Eliot Spitzer's $100,000 call girl habit was exposed in March 2008, many questioned why his wife Silda decided to stand by her philandering man. But now, three months after their divorce, RadarOnline.com has exclusively learned that she is certainly being compensated for her loyalty.
According to the terms of a post-nuptial agreement drafted by the Spitzers in 2013 and admitted as part of their divorce settlement, Silda is walking away with $7.5M in cash -- and much, much more!
Article continues below advertisement
As part of the post-nup, filed in the divorce settlement in February 2014, Spitzer promises that in the event of a divorce, he would pay Silda's "living expenses at a level sufficient to maintain her current … marital standard of living."
EXCLUSIVE: What Silda Got In The Split -- Read The Documents
In particular, that means she'll continue to reside at their tony Fifth Avenue apartment "or any replacement primary residences of similar size, location and quality," per the documents.
What's more, among the many other expenses Eliot agreed to pay for, she's also due a new car "no more than every five years," "entertainment and activities expenses," a housekeeper, a part-time assistant, and up to $100,000 per year to donate to the charity of her choice!
However, all that pales in comparison to the hefty $7.5 million "lump sum payment" to which Eliot agreed. According to the terms of the agreement, she was due $1 million within 180 days of their separation, $1 million upon the service of their divorce judgment, and $500,000 per year for up to six years late. In addition, Eliot will pay her $240,000 per year until she remarries or dies.
Article continues below advertisement
Spitzer can certainly afford it. According to the documents, his adjusted gross income in 2012 was $4,268,000, while Silda's was a respectable $112,000.
Further documents filed regarding the couple's assets -- as of August 2013 -- show various bank accounts with a total balance of close to $40,000, more than $45,000 in investments, a $92,000 401K and a $260,000 IRA account. Spitzer also included a list of personal assets, including interest in various real estate holdings and business ventures, that totals more than $46 million.
He won't have to pay child support to the couple's daughters. Sarabeth, 20, and Jenna, 18, will have their expenses covered by their dad and will receive an allowance up until the age of 21. Daughter Elyssa, 23, is already ineligible for financial support, per the post-nup.
The kids also came up during a section of the document dealing with the family farm in upstate New York. Interestingly, both Eliot and Silda agreed not to take guests there who would "cause any of their children emotional distress, unhappiness, embarrassment, hurt or harm in any way," so it looks like Spitzer's favorite call girl, Ashley Dupré will never get an invite! (She's since married and had a baby.) In addition, the couple agreed to split their time at the property fifty-fifty, with provisions in place should either want to buy the other out of their stake.
Article continues below advertisement
The post-nip reveals that Eliot and Silda agreed that if they separated or divorced, they would only make one joint public statement, which would read, "We regret that our marital relationship has come to an end and have agreed not to make any other public statement on this subject."
They also put in place a confidentiality agreement and gag order that stipulates that neither of them — nor their representatives — may publish "any diary, memoir, letter, story, photograph, interview, article, essay, blog YouTube or like internet video, account or description, whether fictionalized or not, concerning intimate details of their marriage to each other, or any other intimate details of the other's life, or the other's business, professional or financial affairs"without the written consent of the other party.
Should they violate that order, they can be fined between $125,000 and $375,000, with the size of the fine decreasing each year after their divorce.
Are you surprised by the terms of the divorce? Does Silda deserve more? Let us know in the comments!