Exclusive
Eliot Spitzer Hooker's Rock Star Ex-Husband SLAMS Her Shocking Tell-All: It's Just 'Not True'!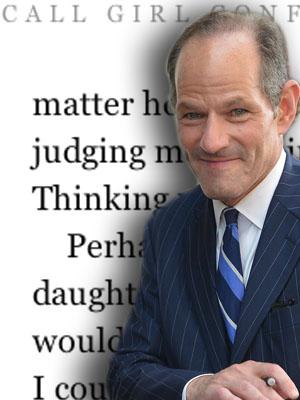 Article continues below advertisement
"In my opinion, based on my experience with Rebecca, she is not a reliable source for truthful information," Barron tells RadarOnline.com exclusively. "She concealed her book from me until it's release. I have not read it."
That's probably a good thing. Throughout the text, Woodard accuses the 90s rock god of "kidnapping" their daughter and forcing her into prostitution by launching a high-stakes custody battle.
"Are you still judging me?" she writes. "Calling me the lowest names a woman in our society can be called? Thinking you could never do it? Perhaps if you knew that the man I was fighting against for custody of my daughter was a rock star with unlimited funds .. you would understand. When he kidnapped our daughter, I vowed I would do anything I could to get her back."
But Barron insists, "What I have learned of her account of our custody case, the circumstances of our meeting and so forth is not true."
Article continues below advertisement
Far from having kidnapped their daughter, he reveals, "I had been awarded emergency custody of our child -- when she claims I kidnapped her -- because Rebecca had moved a convicted sex offender into her apartment."
In court papers filed in Manhattan Family Court in 2005, he identified Woodard's dangerous roommate as Eric Lewenstein, who served three months in jail for admittedly trying to rape two young women at Manhattan nightclubs. Woodard has claimed she was just trying to help out a friend in need and admits it was a lapse in judgment.
Barron was later awarded full custody, but despite the judge's ruling, Woodard claims he was still an absent father, and that her daughter was "languishing … in the care of various nannies."
However, Barron contends, "I have been present and supportive of my daughter since the hour of her birth. I have always provided for her emotionally and financially and I continue to take an active role in the parenting of my daughter."
In addition, he shoots down Woodard's persistent claims that mounting legal bills in their custody battle sent her down the road to a career as a call girl.
"I recall, and court records would substantiate that, other than during the initial part of the custody proceeding, and with my consent, Rebecca had a court-appointed, free lawyer," he reveals. "I have never done anything that would justify Rebecca's decision to become a prostitute and I had absolutely no knowledge of these activities."