Bethenny Frankel's New Boyfriend Was Expelled From College After Accusations Of Frat House Rape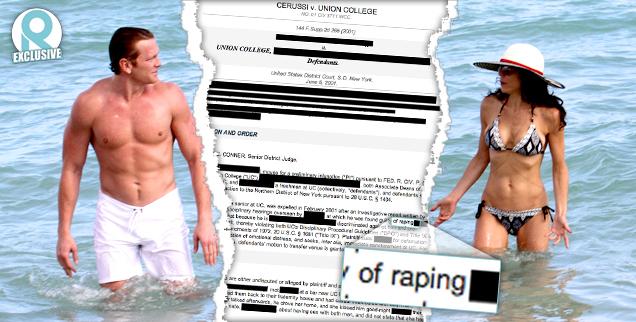 At first glance, Bethenny Frankel's new boyfriend Michael A. Cerussi III seems like a perfect match: He's hunky, nine years younger than her and a successful financial advisor from a wealthy family.
But RadarOnline.com has exclusively learned that Cerussi was kicked out of college after a schoolmate accused him and his fraternity brother of raping her during an incident in 2000. He vehemently disputed the allegations and filed a lawsuit against the school and his accuser in a bid to maintain his innocence and be re-instated in school.
Article continues below advertisement
According to court documents obtained by RadarOnline.com, Cerussi was expelled from Union College — a small, independent liberal arts college in Schenectady, N.Y. — during his senior year, after a college disciplinary board found he raped a Union student. (RadarOnline.com has chosen not to name the woman. Cerussi reportedly was not criminally charged in the incident.)
Cerussi and a fraternity brother "met alleged victim's name redacted at a bar near UC late Friday night, November 11, 2000," the document reads. "The woman accompanied them back to their fraternity house and had sexual intercourse with both men."
She and Cerussi "talked afterwards, he drove her home, and she kissed him goodnight," the document states. "The woman then joked with her roommate... about hang sex with both men and did not state that she had been raped."
But she soon changed her story, it's claimed. At brunch the next day, the alleged victim allegedly told a friend about her night, "but did not claim that she had been raped.
But shortly thereafter, when some of Cerussi's fraternity brothers laughed as they passed her table, the woman assumed they had been told about her threesome."
Article continues below advertisement
Later that night, when yet another member of the fraternity called her, the document notes, the woman "inferred from the conversation that name redacted knew she had had sex with Cerussi and name redacted."
"Sometime later that night, the woman concluded that she had been raped," according to the document, and she went to Ellis Hospital, where Nurse Carol Fritz Braungart "examined the woman and observed redness at the vaginal base, but she did not allow Braungart to examine her internally, take pictures, or complete a full rape collection kit."
The next day, the alleged victim told Dean of Students Kathleen Schurick that she had been raped, the document states. Cerussi and his pal were then suspended.
After a thorough investigation by the school, "Schurick found Cerussi and name redacted guilty," according to the documents and they were informed of their expulsion on December 12.
Cerussi appealed, the documents reveal -- and he was granted another hearing. But there, according to the documents, the expulsion was upheld.
Article continues below advertisement
A third appeal in the college disciplinary system ended with the same result.
Cerussi did not respond to multiple requests for comment, although he told another media outlet on Friday: "Claims were made to the school, which were false and unfounded and ultimately withdrawn."
Talk show host Frankel was spotted frolicking with Cerussi in Miami over the New Year's holiday; she's still technically married to her ex, Jason Hoppy, as the pair continue through a dirty divorce and custody battle over their daughter, Bryn.