Eliot Spitzer's Former Escort Ashley Dupre Shows Off Engagement Ring And Baby Bump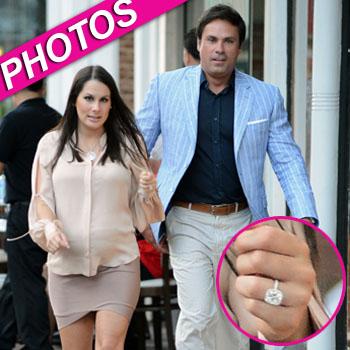 Ashley Dupre recently revealed that she is pregnant and heading down the aisle and now RadarOnline.com has pictures of Eliot Spitzer's former call girl with her baby bump in all its glory and a flash of her engagement ring as she walked in Red Bank, New Jersey with fiancé Thomas "TJ" Earle.
The 27-year-old once received $1,000 an hour for her services to high profile clients like the former New York Governor turned political talk show host.
Article continues below advertisement
But Dupre is now loved up with Earle and is seven months pregnant with their baby.
As RadarOnline.com previously reported, the pair had an affair while he was still married to another woman which he called a "grave mistake." He later divorced his wife and is now starting a family with the former prostitute.
Wearing a beige mini skirt and matching blouse that showed off her blooming bump, the brunette momma-to-be has not revealed her wedding date yet but says she's looking "forward to the future."