The Face Of Evil: Elliot Rodger SMILED As He Gunned Down Peers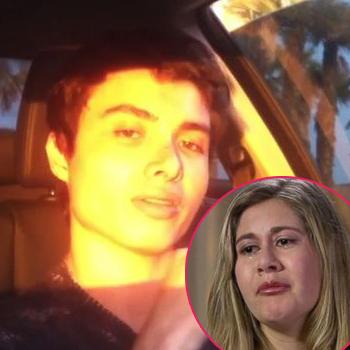 Elliot Rodger smiled as he gunned down his peers during his rampage last week, according to a survivor of the rampage.
Sorority member Bianca de Kock, 20, said Rodger wore "smirky, grimacy smile" as he unleashed a hail of bullets on the property. (Another witness, Dylan Fontillas, said Rodger displayed "almost kind of had a smirk like he was excited about it or he was happy about it.")
"He wanted to do this, he looked happy about it," de Kock — who was hit by 5 bullets in the attack, while two of her sorority sisters died from their injuries — told Good Morning America Friday of the killing spree perpetrated by the 22-year-old, who killed 6 people and injured 13 others in the May 23 killing spree in Isla Vista, Calif.
Article continues below advertisement
De Kock, who got out of the hospital on Monday after sustaining injuries to her arm and chest, said the sequence of events "didn't seem real," as she thought the outburst might have been fireworks or bullets made of rubber.
"And then I realized I'm bleeding , I'm in pain."
De Kock said that her fellow sorority sisters felled in the melee — 19-year-old Veronika Weiss and 22-year-old Katie Cooper — "were both two very incredible, beautiful people and that's how I want them remembered ."
De Kock's father Pieter, also appearing on the network program, expressed his ire over the growing epidemic of gun violence .
Watch the video on RadarOnline.com
"I'm angry that it happened, you know, that it does happen — I'm angry that it's … it's not changing in this country," he said. "We need to change this violence."
De Kock, who said she's taking the rest of the semester off due to the incident, said she hopes to focus the attention on the victims, as opposed to their killer.