Exclusive
Virgin Killer's Father Asked Judge To Reduce Child Support Payments Because Of Financial Hardship, Before Striking Gold With 'Hunger Games' Hollywood Gig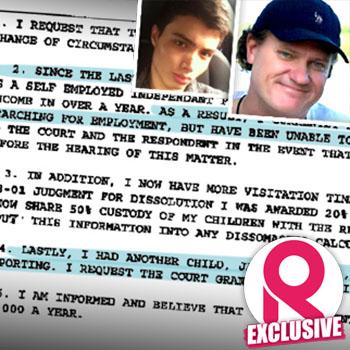 Article continues below advertisement
According to court records obtained exclusively by Radar, in 2009 Peter asked for a reduction of child support payments of $2,000 to ex-wife for their two children, Elliot and daughter Georgia.
Peter said in his request, "Since the last order was made, my wages have decreased. I work in film industry as a self employed independent film maker, however, my business has not generated any income in over a year.
"As a result, I currently receive no income from any source. I am searching for employment, but have been unable to find a job. I will report any income to the court and the respondent in the event that I begin working or receive any income before the hearing of this matter."
Peter continued, "I had another child, Jazz Rodger, 4, who I am living with and financially supporting. I request the court grant me a hardship deduction for his support. I am informed and believe that the respondent is working and grossing $40,000 to $90,000 a year."
Article continues below advertisement
Elliot stabbed three males in his apartment unit before taking to the streets in a black BMW on Friday night. There, he fatally shot two female UCSB students and one male, also hitting two bicyclists with his car and seriously injuring others with gunfire.
Elliot's mother Li Chin pointed out in her response, that she "consents to the motion to modify child support as requested by Peter Rodger due to his present circumstances. But I would like it to be noted that Mr. Rodger voluntarily took more than 2 years off work from 2006 to September 2008 - to make his own documentary called 'Oh My God' traveled to 22 countries financing most of these from equity on his house, hence putting him in this present circumstances.
"I hereby request that when he starts to either work as a film director, and in this capacity having the ability to command $10,000 a day (this is also my believe) and/or when his documentary film recoups on distribution....I also depend on the generosity of family and friends to make ends meet now that Mr. Rodger has stopped child support payments."
Li Chin's income and expense declaration stated in 2009 she was earning $3,200 a month working as a research assistant. Housing expenses were $1,995 for rent, $600 car payment and $387 in medical expenses.
Article continues below advertisement
The Hollywood filmmaker listed health costs of $2,100, mortgage $4,521, and $500 in education costs in 2009.
A deal was ultimately struck between Peter and Li Chin stating that child support payments be reduced to $500 for Georgia until she became 18.
Peter has lived for the last decade in Woodland Hills, Calif., a very family-oriented area on the outskirts of L.A. where homes have an average value of $1 million.
Elliot boasted on his social media accounts of his opulent lifestyle, attending a private Katy Perry concert, flying first class and a selfie while he drank what appears to be a cocktail while in a limo in London.
In Elliot's chilling manifesto, the English native railed at having to live in "low class" apartment buildings with his mother, and coveted his Gucci sunglasses, and Armani shirt. Among his other prized material possessions, were his now infamous BMW.
Going to movie premieres with his parents made him feel "important" and traveling first class on airplanes was "exclusive."