UCSB Mass Murderer Led A Life Of Luxury Before Shooting Spree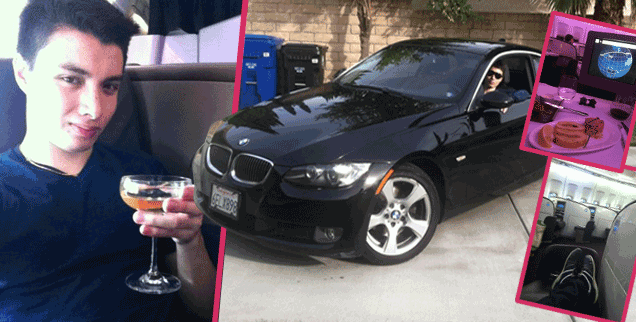 UPDATE: An attorney representing Peter Rodger has issued a statement saying Elliot's family is "devastated" at what's occurred. "They want to send the deepest condolences to all the victims' families involved at this time."
Elliot Rodger, the suspected shooter in the University of California Santa Barbara mass shooting, led a life full of privilege and money.
Only 24 hours after posting a chilling video he titled "Retribution," Rodger is believed to have driven through the town of Isla Vista, adjacent to the UCSB campus and where most students live, shooting apparently at random. By the time he was done, seven people, including himself, were dead.
Article continues below advertisement
Rodger is the son of The Hunger Games second unit director Peter Rodger, and based on his many Facebook postings, he never wanted for anything except for the company of women who he said constantly rebuffed him.
Peter Rodger has lived for the last decade in Woodland Hills, a very family-oriented area on the outskirts of L.A. where homes have an average value of $1 million.
Elliot attended a private Katy Perry concert, flew first class and posted images from inside an airport private clubroom. He took a selfie while he drank what appears to be a cocktail and included pics while in a limo in London.
In his video, Rodger revealed he was a virgin and he intended to kill every UCSB blonde "slut" who had ever rebuffed him.
Ironically, it appears he was not a student at the university which, although well-known for its partying, is also one of the most difficult schools in California to get into. Reportedly, he was a student at a community college, Santa Barbara City College, located about 30 minutes away.