Exclusive
Sexually Frustrated Killer Elliot Rodger's Parents & Siblings Slammed With Death Threats — Forced To Move Every Two Days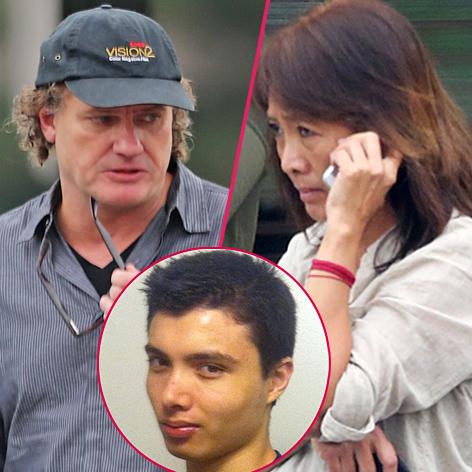 UCSB mass shooter, Elliot Rodger's parents, Peter Rodger and his second wife, Soumaya Akaaboune, and their son, Jazz, and the killer's mother, Li Chin, and sister Georgia have been the target of death threats in the days after the troubled college student killed seven people, including himself last Friday, forcing his family to move every two days, RadarOnline.com is exclusively reporting.
"Elliot's parents, and specifically younger siblings have been getting death threats via social media, cell phone calls, and emails. The family has been under siege since Elliot went on his killing spree," a source told RadarOnline.com.
Article continues below advertisement
"Their houses are absolutely off limits because it's just not safe for them to return. Everyone has been forced to move and change locations every two days because the threats are deemed serious and credible."
As RadarOnline.com previously reported, Elliot refused to take psychiatric drugs prescribed to him by a mental health professional.
"Elliot has always been troubled and couldn't express himself," the source told RadarOnline.com.
"His parents did everything they could to help him. It seemed that Elliot suffered from extreme paranoia and heard voices, but it was impossible to properly diagnose because he just wouldn't talk. Having been prescribed psychiatric medication, Elliot refused to take it.
"Before moving from L.A. to Santa Barbara, he had been seeing a mental health professional for years, and his parents got a team of doctors for him to continue to see after his move. Their hearts break for the victims and their families."
Article continues below advertisement
Court documents from Peter and Li Chin's contentious divorce, revealed that Elliot was diagnosed as having autism.
The future killer's father, Hunger Games second unit director, Peter, filed for divorce from the boy's mother in 1999, when Elliot was 7-years-old.
Her attorney subsequently filed a request for child support that read, "The parties' son Elliot has special needs; he is a high functioning autistic child."
Our source added, "The adults can deal with this, but for people to be targeting Elliot's younger siblings is absolutely disgusting. They did nothing to deserve this, and it's the last thing they need to deal with this.
"Their lives are basically ruined because of actions beyond their control because of their brother's actions."