Elliot Rodger: Peers Mention In Manifesto Shocked, Cops Say Check-up Went By The Book, Tweeters Crush On Twisted Killer & More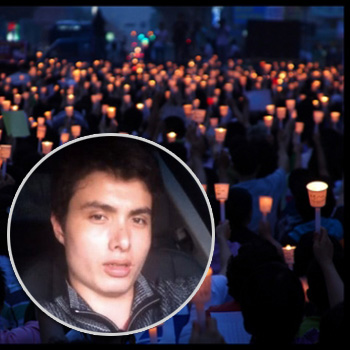 RadarOnline.com has all the latest details in the chilling case of University of California, Santa Barbara student Elliot Rodger, the 22-year-old murderer who said he was driven to kill because of his lack of luck with women, eventually slaying seven people, including himself, and injuring 13 others in a deadly rampage in Isla Vista, Calif. Friday evening.
As we previously reported, Rodger — the son of Hunger Games second unit director Peter Rodger — cited his lack of luck with women in multiple videos and a detailed manifesto, uncovering his warped thoughts and bloodthirsty intentions.
Article continues below advertisement
'Pretty Blonde Girl' Aghast At Manifesto Mention
The father of a now-20-year-old woman (we are not identifying her) who was extensively discussed in the Rodger's writings, and cited as the inspiration for his killing spree, says she's "devastated" by the incident and terrified by any potential blowback from possible copycats. As we previously reported, Rodger said he had a crush on the girl, who was a student at the Woodland Hills, Calif., middle school he attended. He wrote that he "started to hate all girls because of" the teasing he suffered at the hands of "a group of popular seventh grade girls," one of them being the girl. The father told the NY Daily News that the bullying Roger accused her of sounds off the mark, knowing his daughter. "She's always been the most delicate kid you'd ever want to meet. For him to call her a bully, this kid was really disillusioned. She was 10 years old. He was two years older than her. He was in my son's class. She was in the seventh grade and he was in eighth grade. Can you imagine a 10-year-old kid bullying a 12-year-old? This little, petite girl bullying him?" The man said his daughter, now a model, is "devastated by this" and "doesn't even remember" Rodger. "She hadn't seen him since seventh grade, she just knew he was an odd type of person at the time. I guess he had this secret crush on her that no one knew about."
Lucky To Be Alive?
A middle school classmate, and now college athlete — mentioned as "an object of extreme jealousy and hatred" in Rodger's 137-page manifesto — said he was stunned to hear the news of the murders, and had no idea that Rodger harbored so much hostility for him. "I'm still shocked, it's just a crazy feeling.," Lucky Radley, a running back at the University of Utah, told CNN Monday. "When I saw that I was just shocked, I literally didn't believe that that was coming from him." Rodger, in his manifesto, wrote of Radley: "Lucky would later go to the same middle school as me, where he would become an object of extreme jealousy and hatred. Looking back, I can't believe I actually played with him as a friend in my father's neighborhood." Radley told CNN he thought that he and Rodger "were pretty good friends" as children, living a few doors away, and having played video games "a couple of times." "From what I saw I … he didn't say much … he never said any words," he recalled. "He was just — he was just really there."
Article continues below advertisement
Watch the video on RadarOnline.com
Dreadful Discovery
In a microcosm of the changing times, the father of one of the murder victims horrifically found out about his 19-year-old daughter's fate when he checked in on her using a tracking app on his iPhone. Bob Weiss, the father of Delta Phi sorority member Veronika Weiss, made the discovery, seeing that her phone was choc in the middle of the shooting location. Weiss told King 5, "We got to the border of the crime scene and we turned it on again; we could actually see the phone moving which we assume was Veronika Weiss's body being moved to the coroner's truck." The grieving father, describing his late daughter as fierce, strong and smart, said he's empathetic toward Rodger's family, putting some of the blame on the widespread mass-shooting epidemic, and easy accessibility to firearms. "The kids keep dying," Weiss said. "The guns keep showing up everywhere. It seems like you can buy a gun as easily as you can get a Slurpee at 7/11. That's just too dangerous."
Watch the video on RadarOnline.com
Visit NBCNews.com for breaking news, world news, and news about the economy
Could Murders Have Been Averted?
As the local community mourned with vigils, police Monday defended their course of action after a brush with the soon-to-be-unhinged Rodger less than a month before the killings, prompted by a concerned call from his mother after seeing disconcerting videos he'd put online. Sheriff's spokeswoman Kelly Hoover said that police did not scour his room — where his arsenal of guns would have been uncovered — during the April 30 check-in, saying that responding officers said Rodger was cordial and polite, giving them the impression they didn't need to take further action in his case. Hoover said that authorities didn't enter the residence — they didn't have a warrant — and didn't feel they had a pressing need to. Hoover said that "an exception would be if deputies felt that a person was a harm to themselves or others or there was an immediate threat," and that "in this case, we would have had to determine that Elliot Rodger or his roommates were in immediate danger." Hoover said an internal investigation is forthcoming regarding the visit.
Article continues below advertisement
Scott Peterson Syndrome?
Perhaps it's the nature of social media, or perhaps, the motive behind Rodger's actions, but a number of people took to Twitter to compliment the late shooter's looks, very much in the vein of bizarre infatuations associated with other notorious criminals such as Scott Peterson or Dzhokhar Tsarnaev. A user under the handle @lustnouis wrote, "Elliot Rodger went on a shooting spree bc he was a 22 year old virgin & hadn't kissed a girl. But he was cute as f*ck so I mean????" while @Kahduna added, "Elliot Rodger was cute though. And being a directors son I find it hard to believe he couldn't get girls. Must have been his approach." User @beccainthecity wrote, "Elliot Rodger was hella cute and I don't see how no one wanted to date him," and @Artemis5inco wrote, "Dear Elliot Rodger/Roger, Why the fudge did you do that? You are gorgeous af and rich af. Sincerely, Everyone(maybe just me)."