California Massacre: Evil Sicko's 'Kill' Manifesto - Read It In Full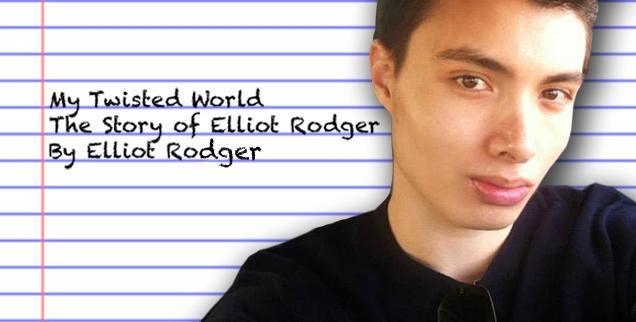 Elliot Rodger's extraordinary manifesto, 141 pages that detail almost every aspect of his 22 years, is a fascinating look into the mind of a "madman," as he's been called.
As RadarOnline.com as been reporting, Rodger killed six people and then himself, in the college town of Isla Vista, Calif, adjacent to the University of California Santa Barbara campus.
In his manifesto, discovered by law enforcement after the rampage, Rodger goes after everyone and everything that he blames for destroying his life, especially sex.
Article continues below advertisement
"Finding out about sex is one of the things that destroyed my entire life," he wrote.
"Sex...the very word fills me with hate. Once I hit puberty, I would always want it, like every other boy. I would always covet it, I would always fantasize about it. But I would not get it. Not getting any sex is what will shape the very foundation of my miserable youth," he wrote.
Rodger lived in a world of nannies, private schools and trips to Europe and Asia. He attended movie premieres thanks to his father, Peter Rodger's, work as a director and his mother's friendship with George Lucas.
His parents had divorced when he was young and his father had remarried but Rodger never liked his stepmother, and in his final days, planned to kill her.
He became a World of Warcraft "addict" and became increasingly withdrawn as he grew older.
He complained about being embarrassed because he had to take the bus to school, and he disliked minorities.
When hearing an African American classmate brag that he'd lost his virginity at age 13, Rodger was outraged.
Article continues below advertisement
"How could an inferior black ugly black boy get a white girl and not me? I am beautiful and I am half white myself. Rodger's mother is from Malaysia I am descended from British aristocracy. He is descended from slaves."
Several years later, when he was a student at Santa Barbara City College, his father drove up from L.A. to meet him for lunch and they went to a casual spot in a shopping center. It might have gone well until he saw a "dark-skinned Mexican boy" together with a "hot blonde" girl.
He became enraged and considered it an "an insult to my dignity." He had the same reaction to seeing an interracial couple.
It all came down to why he, as a "superior" male couldn't get the girls. And it ended in mayhem and death.
Rodger's parents have been described as distraught at their son's actions and are fully cooperating with cops in their investigation.
You can read the entire document on Scribd.