Exclusive
Hero Charles Ramsey Reveals Never-Before-Heard Details Of Harrowing Rescue Of Three Women From Ariel Casto's Cleveland House Of Horrors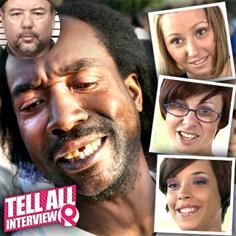 Article continues below advertisement
Having just completed his first book, Ramsey is opening up to RadarOnline.com in an exclusive interview about that spring day he helped rescue the three missing girls, and why he never suspected Castro was capable of anything so heinous.
"I was in my house in my living room sitting on the couch, when I heard banging and screaming and yelling from next door. I heard somebody screaming, saying, 'Get me out of here!' So I go outside, look at the porch and as I'm looking I see a hand waving out the screen door," Ramsey told RadarOnline.com.
"I see my neighbors all looking and think, how long have they all been looking and no one's doing anything? I go off my porch and go close and say ask her what's the matter. 'I'm trapped in here, I've been here a long time and I want to get out,' she said."
Ramsey tells RadarOnline.com he thought maybe it was a domestic incident with Castro's girlfriend and didn't want to get involved at first, but quickly realized that was not the case.
Article continues below advertisement
"She says, 'Please. Save me.' I look at her and I said, 'Okay, what do you want me to do?' She said, 'I don't care, just get me out of here before he gets back," he said.
"I got her out and she asked for a phone so I took her into my house and the kid with her is screaming and she won't be quiet. Amanda said, 'She wants her daddy. Daddy is Ariel.'
Ramsey says the young girl was screaming so loud that he eventually "told Amanda to go across the street and make a call, and that's why there were two 911 calls at the same time."
And Ramsey says he had no clue there were more women being held captive in the home until EMTs tried to take Berry away.
"They tried to put her in the ambulance and she said, 'I'm not going anywhere until you get those two other girls out of the house!' The police went nuts and rushed Ariel's house," he told RadarOnline.com.
"After that, Gina comes out and Michelle comes out. I don't know who they are, I just see two people coming out of the house. After they identified who they are it's kind of bizarre because those girls were in that house all the time I've been a neighbor, and what about the year before I moved to that house? They were still in that basement. Not once did I see them."
Article continues below advertisement
The Craziest & Most Outrageous Celebrity Rumors — What's True, What's Not?
Ramsey describes Berry when he found her as "as grateful as a blind person that can now see" and says he still sees Knight around the neighborhood from time to time.
As for whether or not Ramsey saw any red flags with Castro's behavior prior to finding out that he'd been kidnapping women and keeping them chained in his basement — he says not one.
"I've never been a neighbor to a monster, so of course it surprised me. He looked like me, talked like you, listened to the same music as both of us. He had to be social with the neighborhood to pull this off, he couldn't be anti-social. He was the quintessential neighbor, the one that keeps their lawn well manicured and takes the garbage out, he's all that," Ramsey told RadarOnline.com.
People We Love! Hollywood's Most Inspiring Rogues, Renegades & Rule Breakers
As for the haunting home where Castro once housed the women in his "creepy" dungeon, Ramsey says it's been torn down and the property is now a park for children.
"The damn thing is a playground. They bulldozed the house and made huge dirt mounts and made pavement so the kids can play and it's got flowers all over the place," he said.
"They changed that house of horror into a public park."