Extraordinary: Three Girls Who Went Missing A Decade Ago Found Alive In Cleveland Home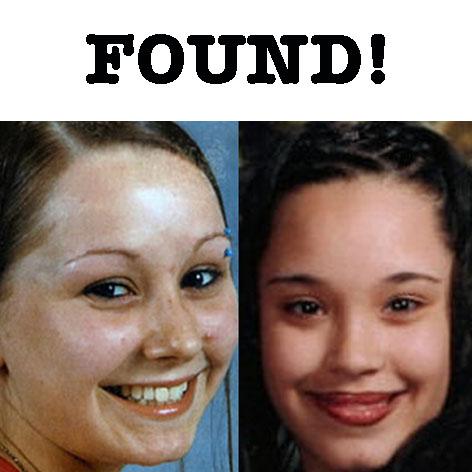 The mysterious disappearances of three girls -- missing for a decade -- came to a stunning close on Monday night in Cleveland, Ohio.
Amanda Berry, who vanished without a trace on April 21, 2003, a day before her 17th birthday, and Gina DeJesus, missing since April 2, 2004, were found alive in a home near the neighborhood where they grew up, police confirmed. Berry was with a child about 4 or 5 years old and there were other children in the house.
Article continues below advertisement
Berry made a dramatic call to authorities which you can hear in the video below.
A third woman, 32-year-old Michelle Knight, was seen coming out of the home after the arrest. She was last seen in 2002 at age 21, leaving her cousin's house.
DeJesus was walking home from middle school when she disappeared nearly a decade ago. Her mother Nancy Ruiz thought she sold into human trafficking.
The owner of the house, Ariel Castro, 52, who had lived in the house at 2207 Seymour Avenue since 1992, was arrested.
"I heard screaming, I'm eating my McDonalds, I come outside, I see this girl going nuts trying to get outside," Charles Ramsey, a neighbor, told local News Net 5.
"I go on the porch and she says, 'Help me get out. I¹ve been here a long time.' I figure it was domestic violence dispute. So I opened the door and we couldn't get in that way. We kicked the bottom.
"She comes out with a little girl and says, 'Call 911, my name is Amanda Berry.' When she told me, it didn¹t register until I called 911...I thought this girl was dead."
Article continues below advertisement
Earlier, Berry had called police and told a dispatcher that she was in a house on at a home on the city's West Side. The woman said DeJesus was with her.
"Help me I'm Amanda Berry. I need police. I've been kidnapped. I've been missing for 10 years," Berry told authorities in her dramatic call. She gave her address in a chaotic call in which she identified Castro.
"I'm Amanda Berry. I've been in the news for the last 10 years," she said during the call,which you can hear below.
Berry, now 27, and DeJesus, 23, were taken to MetroHealth Medical Center and were said to be dehydrated, Cleveland.com reported.
The FBI and police will interview the women when they are discharged, a detective said.
Listen to Berry's 911 call below. In the video beneath that, Ramsey, the neighbor, gives a detailed description about how he helped free Berry after she begged for hep and describes his neighbor who was arrested.Here is the 911 call:
In this video, Ramsey the neighbor describes how he helped rescue Berry.