Exclusive
Still $camming? Legally Troubled Apollo Nida Demands $2K Up Front To Attend Charity Event -- Organizer Says, 'I'm Really Leery'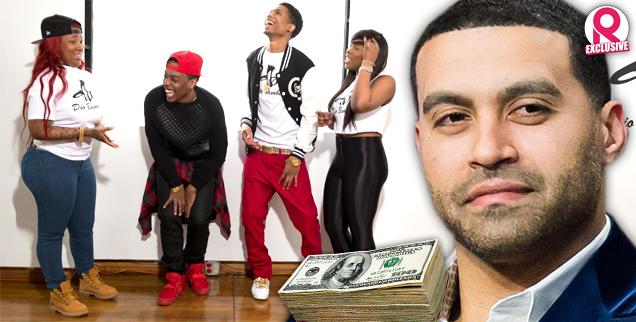 Article continues below advertisement
Chase DeCarlo of Dio Bambini, a charity for battered women and children, tells RadarOnline.com exclusively that he approached Nida, along with fellow RHOA castmate Kandi Burruss, to attend an event raising money for the fund.
"At first I thought he would do it for free," DeCarlo says. "His people were saying … he wouldn't mind appearing."
Faked Scenes, Lies & Payoffs – The Ultimate Guide To Reality TV Shows
But that quickly changed. DeCarlo says, "At first it was like, 'Ok, I'll do it for $2,000.'" Then, DeCarlo says he bargained him down to "about $1,200. It's still a lot, but we're still in discussion. He just sent me a contract for $2,000!"
"We're trying to get Kandi to come too, and she said she would come for free," DeCarlo reveals. "I'm still talking with my people to see if it's worth it getting Apollo to come at all. We have people with a better background willing to do it for free, so I don't know."
Indeed, Nida is still reportedly trying to iron out the terms of a potential plea deal with federal prosecutors in his bank fraud and identity theft case. A judge told his lawyers that he had until April 25 to come to a deal or possibly face prison. With DeCarlo's charity event scheduled for May 2, he's worried Nida might take the money and run.
Article continues below advertisement
"I'm really, really leery that his court date is before the event," DeCarlo says, especially since Nida wants the money up front. "It makes sense why he's pressuring me and wanting me to book him."
"His people told me that I have to pay him everything up front and then they'll send me a photograph to print on a flyer," DeCarlo explains. "I spoke to different celebrities, and he's the only one who really wants to be paid before the event even happens."
"I feel like I'm trying to book Beyonce!" DeCarlo jokes. But reminded of the fact that Nida is a convicted felon with a history of running scams, DeCarlo admits, "It seems like that's exactly what he's showing now."