Exclusive
The Ultimate Betrayal? Phaedra Parks' Hubby Apollo Nida Partied With Other Women On Valentine's Day After Report He Cheated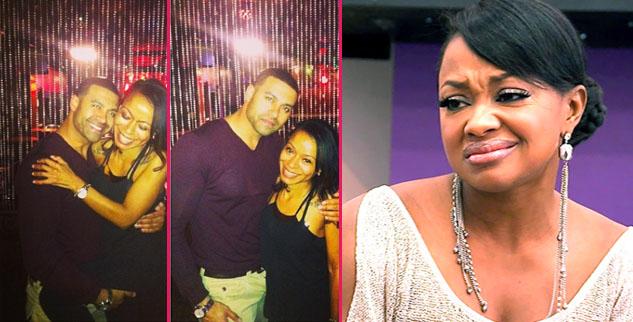 As if it weren't bad enough that Apollo Nida is accused of masterminding an elaborate fraud scheme right under his wife Phaedra Parks' nose, RadarOnline.com has learned that the Real Housewives of Atlanta star chose to spend the night of Valentine's Day away from his wife -- partying with other women!
Around 10:30 p.m. on Valentine's Day, Nida tweeted, "I'm here, Columbia SC Let's Go!!! Palace 2," referring to a popular nightclub in the South Carolina capital. And according to comments on his post, that wasn't his only stop.
Article continues below advertisement
"Thanks had a great night chilling with u and bro at palace and mobay restaurant and bar," a pretty brunette, @audigirl33 wrote on his page the next day.
Another brunette, @rachelraad wrote, "think I saw u at urban nirvana spa today while I was at Starbucks … Too bad you weren't with Phaedra but that other woman :/"
In fact, RadarOnline.com has learned, Nida even posed for cozy photos with one Columbia native, Instagram user @luv_nicole.
"Apollo was so nice …" she bragged on a pic posted Saturday morning, that showed her leg wrapped around the RHOA star. "idk why he tried to pick me up tho."
And at 1:44 am on Saturday morning, she tweeted, "Apollo fine as f**k in person."
Meanwhile, Nida's wife Parks was miles away in New Orleans, preparing for a series of book signings for her advice guide Secrets of the Southern Belle.
This isn't the first time Nida has been accused of getting into mischief while his wife was nowhere to be seen.
In 2012, one woman claimed that she and Nida had hooked up at an Atlanta Holiday Inn, and even produced a receipt that she claimed proved Nida had paid for their stay.
Both Nida and Parks have continued to insist that their marriage is strong, with Nida saying last month that they will "NEVER" separate, despite his legal issues.
As RadarOnline.com has reported, he is currently facing several federal felony charges of fraud and identity theft, and recently asked a judge to delay his trial to March.