Exclusive
New Evidence Links Phaedra Parks To Her Husband's Shady Business Dealings -- Could She Lose The Right To Practice Law?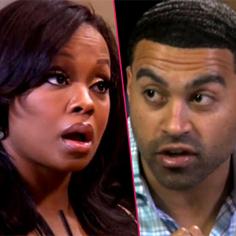 When Apollo Nida was charged with bank fraud and identity theft earlier this month, some Real Housewives of Atlanta fans -- including Wendy Williams -- wondered if his wife, Phaedra Parks, really could have been ignorant of his massive scheme. And now, in a bombshell exclusive, RadarOnline.com has unearthed new evidence linking her to his business dealings, which will likely only intensify those questions.
Article continues below advertisement
Documents from the Georgia Secretary of State corporations database obtained by RadarOnline.com show Parks listed as a founding officer, with Nida, of several businesses including "National Recovery Group, Inc.," "Nida, Inc.," "Nida Fitness Inc.," and Nida Group, Inc."
Though none of these companies were listed in Nida's federal indictment, as TVFishbowl.com first pointed out, this new evidence shows that Parks was involved in her husband's business dealings -- even if it was in name only.
Teresa Giudice has used a similar defense in her fraud trial with husband Joe, claiming she was not involved in his scheme despite her name and signature appearing on several involved documents.
According to federal prosecutors, Nida created several "fake" companies to help him gain access to personal information databases.
The complaint reads, "When i describe these businesses as fake, what I mean is that while they may have been validly organized as entities wit the Georgia Secretary of State, they existed for a purpose other than the apparent business purpose implied by the entity name. In other words, I believe they were set up for the purpose of obtaining access to LexisNexis, Equifax, and similar databases."
Article continues below advertisement
National Recovery Group, which Parks is linked to above, was purported to be a debt collection agency, like many businesses named in the complaint.
For now, Parks has not been charged. But according to some reports, the practicing lawyer is already facing disbarment from the George State Bar over her connections to the ongoing case.
A rep for Georgia State Bar tells Radar, however, that that is not true. "She is an active member and has no public discipline," a rep told Radar. "She has never been disbarred or suspended and is a member in good standing."
Asked whether that could change if she were charged as an accomplice in Nida's case, the rep responded, "I cannot answer that question."