Boy -- 9 Months -- Charged With Attempted Murder In Pakistan; Grandpa Says 'Vindictive' Cops Behind Farcical Charges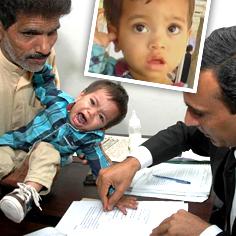 In a case so unusual you'd think we were playing a belated April Fool's Joke, a 9-month-old infant named Mohammad Musa Khan is accused of attempted murder in his native Pakistan in what his family is calling a "vindictive" gambit by bitter police there.
The boy' family was part of an indent in which citizens, irate over gas shortages and price hikes, threw stones at cops and gas company workers there to collect the bill.
Article continues below advertisement
The boy, who nursed a bottle during his court appearance in Lahore last week, has been whisked to safety by family to the city of Faisalabad, a relative told Reuters.
"Police are vindictive" Yasin said. "Now they are trying to settle the issue on personal grounds."
The tot is out on bail and due back to face a judge April 12.