Officials: bin Laden Was Planning Air Assassination Of President Obama, Follow-Ups To 9/11 Attacks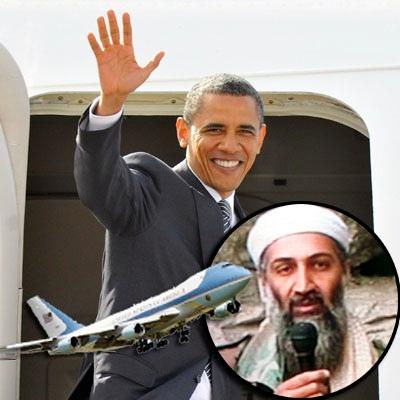 When President Barack Obama gave the order to raid the Pakistan compound Osama bin Laden was hiding at two months ago, he might have saved his own life.
Officials said bin Laden, according to an exclusive ABC News report Friday, was already in talks with Taliban leaders in planning another round of terrorist acts to celebrate the upcoming 10-year anniversary of the September 11, 2001 World Trade Center attacks.
Article continues below advertisement
Most notably, bin Laden had his sights set on assassinating the president while he was flying in Air Force One or Marine One, his helicopter. U.S. Army Gen. David Petraeus (the soon-to-be CIA director) was also on the late terrorist's hit list, via an air attack as well, according to the network.
While the assassination plot would have been nearly impossible to carry out because of the high security surrounding both officials, a more feasible idea bin Laden had was to fly a small plane into an American sporting event on the 9/11 anniversary.
He would have had plenty of options, as the first week of NFL action (barring a lockout) is slated to kick off on the 10-year anniversary of 9/11, as well as a full slate of MLB games scheduled for that day.
"We have so many small airports, you could fly below RadarOnline.com," ABC News consultant Brad Garrett, a former FBI special agent consultant, said Friday. "That's possibly doable."
RELATED STORIES:
President Obama's Father Talked About Putting Him Up For Adoption, Book Claims