Exclusive
Michele Bachmann Announces She's Running For President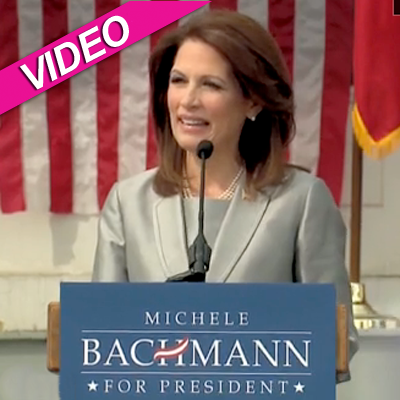 By Alexis Tereszcuk - RadarOnline.com Senior Reporter
Sarah Palin had better watch out, she's got some competition out there. GOP Representative Michele Bachmann officially launched her campaign for president on Monday, making her the first woman in the pool of republicans running against Barack Obama in 2012.
The conservative Christian Tea Party candidate from Minnesota is often in the news for her historical gaffes during speeches, much like Sarah Palin who recently confused exactly who Paul Revere was and what he was doing when he was warning Americans that the British were coming.
Article continues below advertisement
Bachmann started off her run already in an argument with Fox News anchor Chris Wallace, who asked Bachman if she was a "flake" on Sunday. "I think that it's insulting to insinuate that a candidate for president is less than serious," she said on ABC after refusing to accept Wallace's apology.
Bachmann made her announcement in Iowa, and gave the reason for her candidacy as "not for vanity, but because American is at a crucial moment."
Donald Trump & Sarah Palin's Pizza Date
Sarah Palin endorsed Michele Bachmann in her congressional race last year. Sarah will be in Iowa on Tuesday for the premiere of the documentary The Undefeated that showcases her political career. She has not declared her candidacy for president, but she is a clear favorite of republicans.