Exclusive
Insta-Relapse! Concerned Fans Slam Lindsay Lohan For Flaunting Her Party Lifestyle, Despite Claims Of Sobriety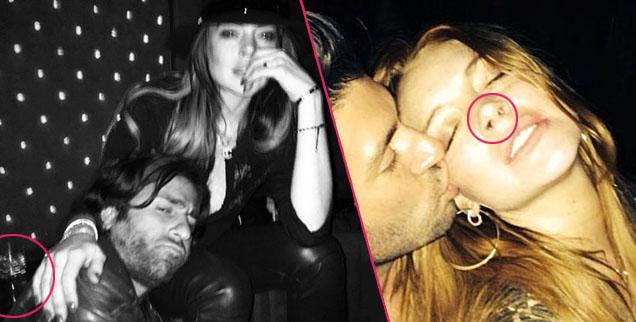 Article continues below advertisement
"Notice the beverage …" @katy_ghobs wrote, with others being much more direct in their attacks.
"She definitely looks wasted," @davidjeanmakeup wrote.
And user @sheilannz chimed in, "Thanks for being a disappointment for those of us trying to continue in our sobriety. Hope the next bottom isn't the end of the road for ya."
While it is unclear if the beverage in the cocktail glass was alcoholic — or if Lohan was even drinking it — still more disturbing signs of the temptations surrounding her in her wild life were present in a February 15 photo of a dinner photo with friends. Lining the kitchen counter in the pic were bottles of wine and a bottle of Ketel One vodka.
But another picture posted on April 6 was even more disturbing for fans than the alleged drinking photo, since it appeared to show Lohan — who has admitted to struggling with cocaine addiction -- with white powder in her nose during a night out.
"You got a coke booger"@ lau_mcmuffin accused.
And @amilehigher claimed, "I think I see cocaine up her nose."
"Might wanna clean the coke out of ur nose before taking a pic next time …" @lilkelbl chimed in.
Article continues below advertisement
User@lynds_mariee agreed, responding, "Totally right…Lindsay that makes me so sad. I really was and still am rooting for you in your sobriety"
And @theresa2063 wrote, "Clearly not sober any more. And not even trying to hide it. Gross…"
Lohan admitted to relapsing on her reality show OWN, but despite her insistence she has been sober since, there have been multiple troubling reports that she is off the wagon.
According to In Touch, she was spotted drinking vodka sodas at Coachella Music Festival outside of Palm Springs earlier this month.
And after that, a new interview was published inKode magazine that accused her of drinking vodka and taking ecstasy during her visit to the notorious party weekend.