Exclusive
Exposed: The Truth About Lindsay Lohan's Cocaine Use -- She Says 'Maybe 4 Or 5 Times,' But What About These 15 Incidents?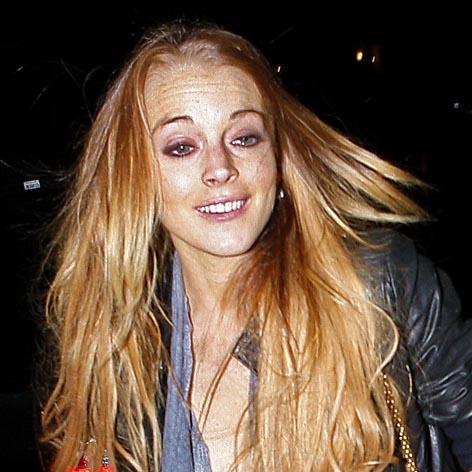 It was the Lindsay Lohan tell-all confessional that wasn't much of a tell-all, after all: a Q&A with Piers Morgan for Britain's The Daily Mail -- in which the troubled starlet confessed to using cocaine "maybe four or five times in my life."
"I don't like it," the 26-year-old insisted to Morgan, host of CNN's Piers Morgan Live. "It reminds me of my dad. I took it four times in a period from about the age of 20 to 23 and I got caught twice."
Article continues below advertisement
She added: "I've never taken heroin either, never injected myself with anything, never done LSD. Those things all scare me."
But did Lindsay go far enough with her admission?
In reality, the truth about her drug use is far worse than what she led readers to believe: the Mean Girls actress' struggle with drugs and alcohol sent her to rehab six times since January 2007, due to at least 15 separate incidents:
2006
As Lindsay admitted to Piers, she was introduced to cocaine at age 20.
On Nov. 12 2006, an out-of-control Lindsay overdosed on a deadly cocktail of cocaine and painkillers at Hollywood's Chateau Marmont, the National Enquirer first reported.
The magazine revealed how a doctor raced to her room after a friend of the actress found her unconscious in a drug-filled hotel room.
Although the doctor was able to revive the hard-partying star, he was horrified to discover a "stash of cocaine and a pile of prescription drugs" in the room, an insider said, at the time.
Article continues below advertisement
"The doctor insisted, 'This girl had a serious drug overdose. She has to go into a hospital and then into rehab.'"
2007
In January, Lindsay entered a drug rehab program for the first time but was allowed to continue to work on her film, I Know Who Killed Me, during her 30-day stay at the Wonderland Center in Los Angeles.
It didn't seem to work, however: on May 26, she crashed her car in Beverly Hills and was cited for driving under the influence. Lindsay was found to have had cocaine in her bloodstream, according to toxicology reports.
Later that year, in July, Lindsay was arrested in Santa Monica after a woman, identified as the mother of her former assistant, told police the actress was chasing her in an SUV.
Cops found cocaine in Lindsay's pocket during a search and arrested her.
Then aged 21, she was booked on two misdemeanor charges of suspicion of driving under the influence of alcohol and driving on a suspended license and two felony charges of possession of cocaine and transport of a narcotic.
Article continues below advertisement
She again sought treatment.
But just 20 days after being discharged, Britain's News of the World reported Lindsay had gone on a "marathon cocaine binge." The paper's evidence: screen grabs from security video showing Lindsay inside the ladies room of Teddy's nightclub in the Hollywood Roosevelt Hotel, with two friends who were also taking drugs.
Her drug-taking began at 8 p.m. one night and was still going on at 11 a.m. the next morning, the paper reported.
2008
In a taped conversation between Lindsay's mother Dina and her ex-husband Michael, later released, the family matriarch recounted a failed "mess" that was an unsuccessful intervention.
"You don't even know what I'd go through trying to get her into, like, rehab and stuff," Dina was heard telling Michael.
"She'd like, punch me in the face, kick me out of the car… like you don't know the (expletive) I went through trying to get her an intervention by myself. It was very difficult."
Article continues below advertisement
Dina added, "She's really sad and really hurt and really…despondent. I told her not to go to L.A. at 18…she did. I couldn't leave these other three (Dina's three other kids with Michael) to go get her and it was, like, a mess."
2009
Lindsay's father released a three-minute audio tape to RadarOnline.com in which she was heard sobbing, "Mommy says that I'm worse than you were" -- a reference to her apparent drug use.
"No one cares about me," a tearful Lindsay said, at one point. "They don't, by the way. It's about how they feel, not how I feel. It's not about me. It's never been about me, unless I fight for it."
On New Year's Eve that year, at age 23, Lindsay shamelessly snorted coke in front of blogger Nik Richie at Mansion Nightclub in Miami, Florida, while her ex-girlfriend Samantha Ronson deejayed, he later claimed.
Article continues below advertisement
"The PR girl opens the bathroom door for us to walk through and stands guard outside," Nik wrote in his book Sex, Lies & The Dirty.
"It's candlelit, but the light makes my pupils shrink. Lindsay goes straight for the toilet, pulling her dress up and sitting (no underwear) and one of her breasts is hanging out the top of the dress.
"I start to wash my hands and she asks me, 'So, what's your story?' before doing an uneven line of coke off her wrist.
"I say, 'Nothing… just, y'know… partying.'"
He added, "I'm watching Lindsay do coke to my right, that pale tit hanging out, and it takes a couple of seconds to kick in that it's intentional. I'm supposed to see this. She wants me to. And she's doing more coke, raising her eye-brows at me like, 'Want some?' She sniffs. Snorts. She swabs a little in her mouth and I've heard about this kind of thing on TV and in the papers, but it's different seeing it: the chick from Mean Girls doing blow on the toilet next to me. She's not the same girl anymore. Something's changed. She's lost her way and seeing it is freaking me out."
Article continues below advertisement
2010
With her career spiraling out of control, disturbing images surfaced showing Lindsay injecting what appeared to be heroin into the veins of her left wrist.
The images, published in Britain's tabloids, were snapped at a Hollywood party believed to have been held in 2007. The star is shown wrapping what looks like a tourniquet around her arm before using a syringe to "inject herself" with a substance into her left arm.
In another shot, an unidentified person appears to be injecting a syringe into Lindsay's lower back.
The emergence of the photos came just a week after Lindsay admitted to failing two drug tests in September of that year. A probation report released later revealed that the drug test failure involved cocaine and amphetamines.
After failing her test, Lindsay wrote on Twitter: "Substance abuse is a disease which doesn't go away overnight. I did fail my recent drug test. I am prepared to face the consequences."
Article continues below advertisement
Earlier in the year, Lindsay skipped a court date to party in Cannes, France. As RadarOnline.com reported, during the hijinks, she was also photographed sitting in front of a table with lines of a mystery white powder.
It showed several lines of a white powder, cut into lines, in front of the starlet.
When reached by RadarOnline.com and asked to explain what the white powder was, Lindsay at first replied: "What!??" After being directed her to look at the photo and the white powder on the table in front of her, she added: "That's a set up that's so untrue."
Still, the prosecutor at the time, Danette Meyers, lamented: "I hope that isn't cocaine in those pictures."
2011
Photos emerged of Lindsay's rotten teeth, leading one dental expert to conclude the decay had most likely come from recent "smoking and drug use."
Dr. Pankaj Singh, of Arch Dental Associates in New York City, who has not treated the starlet, said: "This type of damage appears to be from a combination of smoking, drug use and a lack of personal care."
Article continues below advertisement
2012
In October, Lindsay made a hysterical early-morning plea for help to her father, claiming her mother Dina was using cocaine.
"Dad, she's on cocaine. She's like touching her neck, and s**t," the actress was caught on tape saying.
In the aftermath of the incident, family and friends of the mother-daughter duo urged both women to go to rehab.
She didn't and Lindsay was arrested after allegedly punching Tiffany Ava Mitchell, 28, in the face at Avenue nightclub in Manhattan's Chelsea neighborhood in November.
She had been partying hard before her arrest, according to an eyewitness, who told us the actress was drinking heavily and doing cocaine in the hours before the incident.
"Lindsay was completely out of control. She was drinking way too much booze and was doing cocaine," the insider revealed.