Exclusive
Sobriety Just For Show? Lindsay Lohan Fires Sober Coach After Completing Documentary Filming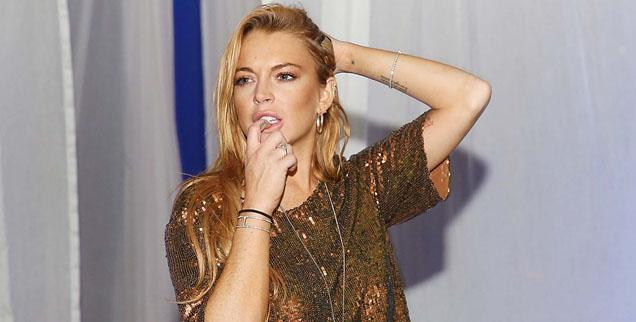 Was it all just for the cameras? Lindsay Lohan abruptly fired her sober living coach, Michael Cormier, after completing filming for her self-titled reality show for OWN, RadarOnline.com has exclusively learned.
Viewers of Lindsay have seen Cormier on camera supporting Lohan as the show chronicles the troubled actress' life after her 2013 rehab stint.
"But as soon as the cameras were packed up, Lindsay gave Michael the pink slip, and he hasn't heard from her since," a source close to the production told RadarOnline.com.
Article continues below advertisement
After being released from rehab last year, "Lindsay immediately hired Michael to be her sober living coach/companion. He moved from Los Angeles to New York City to be with her 24/7," the source added.
Cormier, a senior counselor at Cliffside Malibu Rehab Center, specializes in helping people through their recovery and according to our spy, "This wasn't cheap for Lindsay, as Michael charges up to $1,500 a day."
They said: "But it was important for Lindsay to show the world while she was filming the reality show for OWN that she was sober. Having Michael there gave her a lot of credibility and support when she needed it."
However, as soon as filming stopped, Lohan, 27, abruptly fired Cormier against his advice and that of her team, the source explained.
And it wasn't because the sober coach did something wrong or did a bad job!
Article continues below advertisement
"Michael was insistent Lindsay distance herself from her party pal, Gavin Doyle," the insider said.
So the Mean Girls star relieved her sober coach of his duties!
As RadarOnline.com has reported, filming the reality show proved to be a daunting task for the troubled starlet. On Sunday night's second episode of Lindsay on OWN, viewers saw Lohan go into her usual train wreck mode as she refused to face the cameras.
And the bad behavior meant Lohan almost lost the apartment of her dreams, as it was revealed the production company handling the rehabbing starlet's show was advancing her money to pay for the new place.
The stumbling block appeared to be a standoff between Lohan and the Pilgrim production company shooting the Lindsay show for OWN after she refused to appear on camera one day of the shoot.
Pilgrim put in the money for the New York apartment as an advance for Lohan doing the reality show, but then took the checks back from the realtor!
MORE ON:
Celebrity Justice
Article continues below advertisement
Later, producer Craig Piligian explained his company Pilgrim did that partly because they didn't trust the actress to complete the show.
A tense-looking Lohan had a phone conversation with producer Piligian in which he said, "You and I have to have a better understanding because this is making me very frustrated.
"When you tell our production what you will and won't do, it doesn't work for me," he said.
"I never once said I'm not shooting it!" Lohan protested over the phone.
The show's director, Amy Rice, explained to her, "There's a fear we're not going to get this footage from you."
But Lohan raged, "I was ready! You can't pull that s*** with me anymore. I am giving you no reason to feel that!"
During the meltdown, Cormier stood by and later explained to the cameras, "When Lindsay feels like she has been tricked… it's really intensely triggering for her."
Article continues below advertisement
Ultimately, as viewers saw, Lohan did get her new apartment.
However, sources are concerned about her stability after letting sober coach Cormier go.
"Lindsay hasn't been to an AA meeting in months. She always has an excuse about why she doesn't go, the paparazzi or privacy concerns," the source said.
"But let's face it, if it was important to Lindsay, she would go, period. It's never a good thing for anyone struggling with addiction to be out there on their own."
The Mean Girls star maintains that she is sober, and hasn't been drinking or using drugs.