Livin La Vida Lohan! Lindsay Lohan Stops Her Reality Show Cold, Refuses To Go On Camera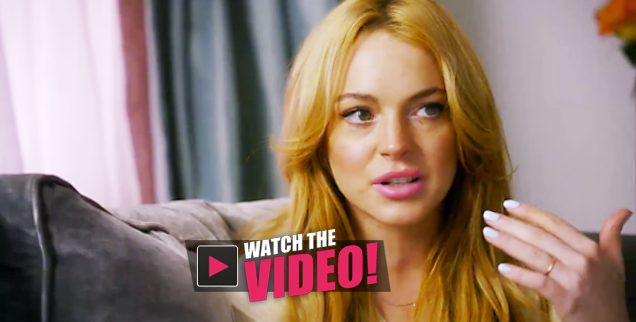 Lindsay Lohan's reality show was almost over before it really got started!
On Sunday night's second episode of Lindsay on OWN, viewers saw the troubled actress go into her usual train wreck mode as she refused to face the cameras.
And the bad behavior meant Lohan almost lost the apartment of her dreams, as it was revealed the production company handling the rehabbing starlet's show was advancing her money to pay for the new place.
Article continues below advertisement
Angry about not being able to move out of a New York hotel and into an apartment, and upset about her mother, Dina Lohan, getting arrested for DUI, Lohan declined to be on camera.
As her personal assistant, Matt Harrell, tried to move her from one hotel room to another on the episode, Lohan wouldn't even come out of her bedroom.
"I'm still working on that," Harrell told the hotel housekeeper, pointing at Lohan's closed door.
And she wasn't ready for cameras, Harrell told show producers.
Two days later, at Lohan's hotel, she still hadn't received the keys to her new apartment.
And the stumbling block appeared to be a standoff between Lohan and the Pilgrim production company shooting the Lindsay show for OWN.
Pilgrim put in the money for the apartment as an advance for Lindsay doing the reality show, but then took the checks back from the realtor!
Article continues below advertisement
"He's just being a d***!" Lindsay shouted to her father, Michael Lohan, about Craig Piligian, CEO of Pilgrim.
A tense-looking Lohan, with her dad standing by, had a phone conversation with producer Piligian in which he said, "You and I have to have a better understanding because this is making me very frustrated.
"When you tell our production what you will and won't do, it doesn't work for me," he said as Lohan furiously smoked a cigarette.
"I never once said I'm not shooting it!" Lohan protested over the phone.
The show's director, Amy Rice, explained to her, "There's a fear we're not going to get this footage from you."
But Lohan raged, "I was ready! You can't pull that s*** with me anymore. I am giving you no reason to feel that!
"So until I f*** up, you can't assume I am GOING to!"
Piligian sternly told the recently out of rehab star, "Lindsay, my worry is that I'm not going to see you for a month, that you're not going to show up.
Article continues below advertisement
"As soon as we give you what you want, my worry is --"
But Lohan interjected, "If I were to do that, I lose and you lose."
Later, Lohan told OWN's cameras, "Craig didn't want to give me a certain check because we hadn't filmed enough and I felt betrayed."
Then, with things smoothed over with the production, she lunched with her dad, with whom she's had an on-again, off again relationship.
Michael told the cameras after Lindsay's rehab, "I'm really proud of her."
During their lunch, in which Lindsay humorously ordered a vodka pizza, they discussed how she wanted to buy her brother, Cody Lohan, a $48,000 car but wasn't able to manage it.
Then Michael was going to pay for the car, but told Lindsay he had already given $30,000 to Dina, which was supposed to be for the kids.
When Michael started to talk about child support, Lindsay snapped,"I don't want to talk about your two other random f***ing kids.
Article continues below advertisement
"They're not part of my family and they never will be."
Michael said, "That's your choice and I respect that."
As RadarOnline.com readers know, Michael fathered a secret daughter born in 1995 while he was still married to Dina, and has a son with fiancee Kate Major who was born in 2013.
(Major was recently arrested for DUI, battery, and a probation violation after Michael called 911.)
Over lunch, Michael tried to get his daughter to open up about football player Matt Nordgren, whom Lindsay dated briefly in 2013.
"He's a good guy," Lindsay said, smiling but not giving any details.
And as RadarOnline.com has reported, she didn't like her dad bringing up her old nightclub party pals he disapproved of, such as Gavin Doyle.
Lindsay turned the heat back on her father, saying, "You weren't good for me for a long time."
"I accept that," Michael said.
But the celebrity dad said Dina had cut him out of a relationship with her, Cody, and her sister, Ali Lohan.
Article continues below advertisement
Both Lindsay and Michael said "I love you" and shared a hug after their lunch.
Lindsay later told the cameras, "I've had to regain trust in him and that's an everyday thing. The difference now, is, we can talk about it. It's nice."
When producers asked Lohan about her mother's September 2013 DUI, she commented, "She'd doing really well. She's ashamed of it and upset. She's taking the steps she needs to take. It's unfortunate because I've been there."
Watch the video on RadarOnline.com
First Look: Part Two of Lindsay
While trying to manage her sobriety in a chaotic setting, Lindsay fights to move into her new apartment. Plus, she has a heated conversation with her dad and struggles with her mom's DUI as the producers start to question her commitment to the series.
Later on the episode, Lindsay attempted to change her life with the help of professional life and fitness coach AJ Johnson, who taught her some boxing moves and tried to help the recovering alcoholic build a daily routine.
But with shades of Princess Diana, Lohan urged her driver, Steven Rodriguez, to drive fast through the streets of New York to ditch the paparazzi!
At the end of the episode, Lohan finally got the keys to her new Soho apartment.
"I have my own home," she said. "Good vibes!"
But as a promo for next week's episode showed, OWN's Oprah Winfrey herself had to step in after Lohan again hit a rough patch while working on the reality show!