Exclusive
Lindsay Lohan Insists She Is 'Completely Sober'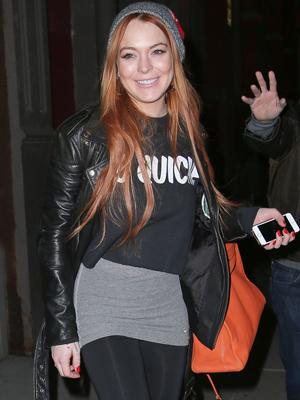 Lindsay Lohan is telling pals that she is STILL completely sober after she raised eyebrows Sunday night with her confession that it's hard for her to go to Alcoholics Anonymous meetings because of pesky photographers.
In her self-titled documentary on OWN Sunday night, an antsy Lohan, 27, suddenly decided she had to get an entirely new room in the same hotel where she'd been staying in a New York hotel for 36 days.
Article continues below advertisement
Lohan, a source told Radar, is "in a really good place right now… she is doing what has been asked of her by the court in her lying to cops case. She tries to get to AA meetings, but because she is a celebrity, it's always an issue."
Earlier in the episode, an assistant had sounded optimistic about a new life for the former Mean Girls' star, who is now better known for her arrests than her acting.
"If she screws this up — she knows what's at stake," the man said.
An insiders close to Lohan said, "Lindsay would hardly even allow housekeeping in the room to clean. She was afraid someone was going to take pictures and sell it to the tabloids. The level of paranoia with Lindsay is terribly high, sadly."
During Sunday's premiere, which is a documentary series about Lohan's life after getting out of rehab, the actress was shown storming off the set of a lingerie shoot and ranting to her real estate agent.
MORE ON:
Celebrity Justice
Article continues below advertisement
"My intention is to just be me," the recovering alcoholic told Oprah Winfrey in starting her new TV journey.
Viewers also saw the drama of Lohan moving back to New York and looking for a new apartment in Soho.
But when Lohan finally found a place she liked, the recovering party girl was convinced her real estate agent, Cash Bernard, wasn't working hard enough to seal the deal!
In a tense phone conversation with Bernard, Lohan said: "What EXACTLY is it going to take to get the keys?! I hear it in in the tone of your voice, how lackadaisical you are about it."
After finding out a $10 million liability policy had been put in her lease, Lohan went ballistic, shouting to Bernard over the phone: "They can't just add that to the lease! How the hell can anyone have that?! I'm not Oprah. I can't get that!"