ABC News President Refuses To Let Josh Elliott Say Farewell On 'GMA' -- After Sam Champion Was Allowed To!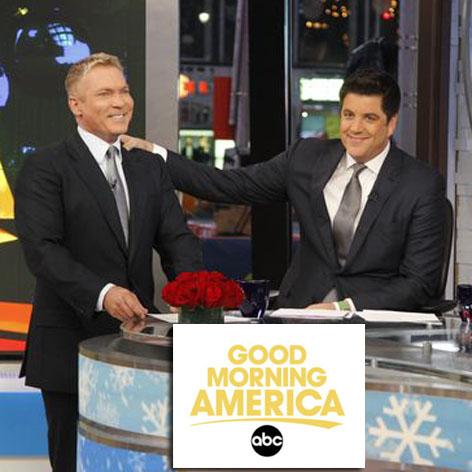 Josh Elliott's departure from Good Morning America is becoming eerily similar to Ann Curry's bungled firing from TODAY, after ABC News president Ben Sherwood refused to let the journalist say goodbye to fans on the show, despite recently giving weatherman Sam Champion a huge on-air send-off, RadarOnline.com is exclusively reporting.
On Thursday, GMA viewers watched as Elliott's former colleagues said farewell to him without him being on the set to respond; instead, the audience watched a four-minute highlight reel of Elliott's highlights during his three-year stint on the show, in which time it skyrocketed past TODAY for the morning show crown.
Article continues below advertisement
Elliott said in response via social media: "Tough to watch that, through leaky eyes. But I thank you, @GMA, for three wonderful years. And Robin, George, Lara, Amy and GZ: I love you."
Insiders told us that Sherwood was decidedly less sentimental about the parting, as he felt slighted by the series of events that led to his exit from the ABC morning juggernaut.
"Sherwood was absolutely stunned by Josh's behavior during contract talks to keep him at GMA," a show insider told RadarOnline.com. "Ben had been executive producer of GMA, and had picked Josh from relative obscurity to be the news reader for the morning show.
"On Sunday night, Josh simply e-mailed Ben informing him that he would be taking a job with NBC Sports. He didn't even have the decency to call Ben and tell him. It was extremely unprofessional and in poor character to do that. It was a no-brainer for Ben, he made it clear that Josh wouldn't be allowed to come back on the show to say goodbye."
Elliott's farewell was in stark comparison to beloved weatherman Sam Champion's send off back in December, after he decided to take a job with The Weather Channel, a subsidiary of NBC.
Article continues below advertisement
On Dec. 4, Champion's last day on GMA, the co-hosts gushed over their colleague, who was on the way out, having signed a deal with The Weather Channel.
"You're so quick -- you're the best to work with. We can throw anything at you -- and we often did -- and you'd hit it out of the park," Robin Roberts said. "Yeah, we're sad to see you go. But we're so happy for you and this next chapter that you're embarking on, this great new adventure."
Fighting back tears, Elliott said to Champion, "I just want to say thank you. Because it's been a gift each and every day to work with you, Sam. A lot of people talked about our bromance, and for me it was just a friendship.
"I promise there's happy on the inside, but...I'm gonna miss you. You are the best live broadcaster I've ever worked with. Thank you for giving the gift to us and to everybody at home, everyday."
Article continues below advertisement
"Josh doesn't get along with Lara Spencer at all, and the two have had multiple fights over trivial issues about how stories are covered. The only female Josh hasn't fought with is Robin Roberts, because he respects her for her previous work at ESPN."
Elliott's send-off, or lack thereof, is being compared to Ann Curry's demotion from the TODAY show.
However, our ABC insiders scoff at that comparison. "The show said good-bye to Josh....the audience loved it, and they will continue to tune in to GMA. Just because Josh is gone, doesn't mean the show is going down the tubes.
"There are exciting things to come. Everyone needs to just move on, there isn't a story or a scandal here," the source added.