No Sexting, No Grindr, No Oral Outside The Marriage: Johnny Weir Lays Down New Rules To Reconciled Husband In Dirty-Detailed Post-Nup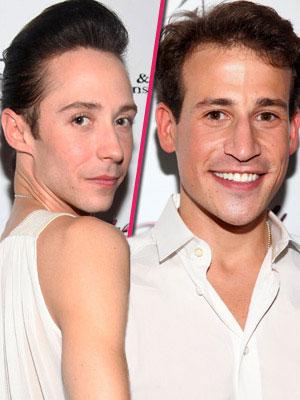 Johnny Weir, as part of his revived marriage to husband Victor Voronov, has presented a number of conditions his partner must agree to before they are a pair of happy husbands once again.
The three-time U.S. national champion, in a postnuptial agreement, demands makes plenty of below-the-belt demands on Voronov, literally, as he stipulates his husband refrain from any sort of sexual contact (including mutual masturbation), kissing, flirting or sexting with another person; and staying off online or mobile outlets that could lead to infidelity, such as the popular hook-up app Grindr or any social media.
Article continues below advertisement
Voronov's should burn his little black book as well, if he has one, as the document prohibits getting "in close range or contact with someone from our past or someone to be part of the future" or he's in violation of the agreement.
Hammering home the point, Weir stipulates that he and his husband must get joint STD tests twice a year, with the results being released to both of them directly.
Voronov cannot give Weir any ultimatums — Weir cited in papers one instance in which Voronov demanded "a free f*** of anyone I want" should Weir had not acquiesced to his request.