Exclusive
Did Johnny Weir Dodge A Bullet? Husband He's Divorcing Has Secret Violent Past -- Including Arrest For Battery & False Imprisonment!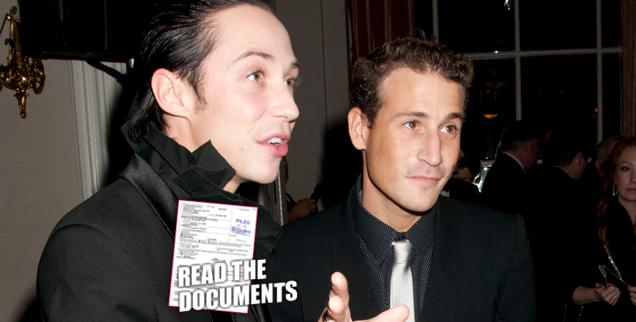 Johnny Weir's marriage to Victor Voronov ended in bloodshed when the figure skater allegedly bit his partner of several years. But RadarOnline.com has learned that Weir wasn't the only one with a violent streak. Voronov has his own dark past, including arrests for battery, criminal damage and false imprisonment!
According to court records obtained by RadarOnline.com, around 5:30 p.m. on April 1, 2009, Voronov and his mother Lilya got into a brutal fight. According to prosecutors, Voronov "did intentionally damage his mother's black Prada purse … by grabbing it, tearing it, said damage exceeding five hundred dollars." In the process, he "did intentionally cause physical harm to his mother," prosecutors claimed in the affidavit, "by shoving her and holding her down, and by grabbing her purse from her hand causing an abrasion to her left thumb."
Article continues below advertisement
As his mother tried to escape and call the authorities, he allegedly "did physically hinder her from completing a 911 call … to request police protection," the documents claim.
READ: The Graphic Arrest Warrant For Weir's Ex!
Voronov was arrested for criminal damage, theft (for taking the purse), simple battery by causing physical harm, false imprisonment, and obstruction of a 911 call.
Voronov was released on a $1,300 bond with the stipulation that he would "stay away, absolutely, directly or indirectly, by person, telephone, messenger or any other means of communication from" his mother, Lilya. He was also ordered not to "take or possess any drugs, unless prescribed lawfully."
One week later, the court revised the conditions of the bond, allowing him to contact his mom but keeping the stipulation that he not use drugs, and ordering him to complete a minimum 30-day program at the Talbott Recovery Campus residential drug treatment program.
Voronov tells RadarOnline.com exclusively, "I had an issue with her when she called the police in 2009, but there was no physical altercation. It was interference with making a 911 call and charges were dropped because my mom wasn't about to testify against me."