Exclusive
More Weir-dness! Johnny Cries Poverty In His Bitter Divorce Case: 'I Am Not Worth $10 Million' -- Nor Am I Doing 'Celebrity Apprentice'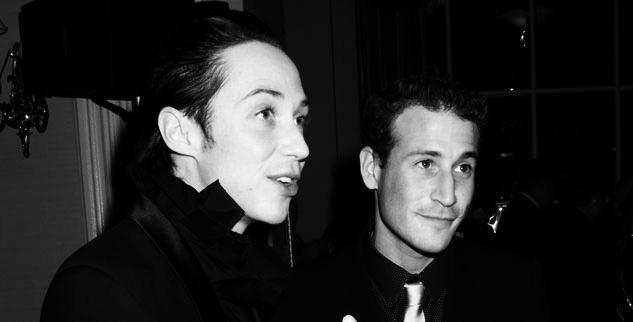 In the latest development in Johnny Weir's down and dirty divorce case, the Olympic ice skater is crying poverty, RadarOnline.com has exclusively learned.
Weir claims in legal documents filed in his ongoing divorce from estranged husband, Victor Voronov, that he isn't worth $10 million, lives in a rented apartment, drives a leased Lexus SUV and WON'T be appearing on the upcoming season of Donald Trump's Celebrity Apprentice.
Article continues below advertisement
According to a sworn declaration submitted by Weir, he claimed, "Unfortunately I am not as financially successful as the Defendant would have this court believe (i.e. I am not worth 10 million dollars, I did not sign a seven figure contract with NBC and I did not sign a contract with Celebrity Apprentice, etc).
"All of these allegations are not only untrue, they are absurd and my attorney already explained this to Defendant's counsel. The Defendant knows this, he knows how we lived. If I had 10 million dollars I would not be living in a rented apartment in Lyndhurst and driving a leased Lexus SUV."
Further, Weir asked the the Court to help him secure his personal property, and to retain possession of his dog, Tema.
"We own no real property," Weir noted in court papers about his marriage to attorney Voronov. "We lease our cars. We have no joint bank accounts. We have no children. Other than goods (i.e. purses, artwork, shoes, clothing, etc) the majority of which I either owned prior to my very short marriage or were gifted to me by fans, we have very little."
Article continues below advertisement
Weir, known for his flamboyant fashion style, also revealed that his swoon-worthy designer handbag collection was acquired primarily from his fans! A crocodile Celine bag "was a gift from a Japanese fan in the summer of 2012. It was purchased for me, by her, from a Celine store in Tokyo."
A Cartier Rose gold watch and green Hermes Birkin handbag were also gifts from the same Japanese fan of the ice skater's, he said.
MORE ON:
Celebrity Justice
Weir added, "I do not own 40 Balenciaga handbags, but only 9 and they were all purchased prior to the marriage, by me, or they were gifts from my parents."
Further, Weir wanted the court to know that Voronov is the bad guy!
After divorce proceedings in court last Friday, Johnny revealed that "Victor sent a string of disgusting and harassing text messages to his cousin to demonstrate the Defendant's true character rage, and the lengths he will go to seek revenge.
Article continues below advertisement
"When he is angry he becomes unhinged. I have seen this behavior throughout our marriage and have endured his abuse for many months. This is exactly why I needed to retrieve my dog and property because this is what Defendant does. If people do not do as he wishes, he harms them. Excerpts from the texts are as follows:
GALLERY: Winter Olympics! Ice Skating's 35 Secrets, Tragedies & Scandals
Just u wait. I don't let go of this sort of thing lightly. New Life mission, hate u more than Johnny but it should take about a week. Wrong person. You are who you are. I expected nothing less. But Now I'm just taking u down my style. Just wait and watch. Kharma is such a bitch."
Divorce proceedings are scheduled to take place in New Jersey on Wednesday, however, a source told Radar, "Neither Johnny nor Victor plan on being there."
Last week, Weir, 29, announced via Twitter that he and Voronov, who tied the knot on New Year's Eve, 2011, had split after just three years of marriage.