Honeymoon On Ice! Johnny Weir Marries Boyfriend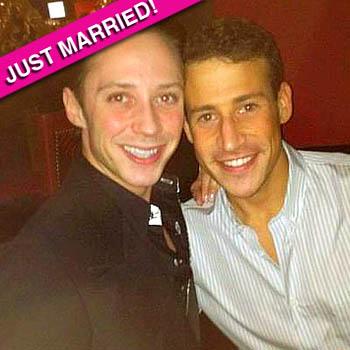 By Alexis Tereszcuk - RadarOnline.com Senior Reporter
What a great start to 2012!
Olympic skater Johnny Weir tied the knot with his boyfriend on Friday, December 30, exchanging vows in front of their family and even sharing a last name.
Weir, 27, married Victor Voronov, 28, in a civil ceremony at the New York City Courthouse, and Tweeted the good news. "I'm married! @vitya_zvesda ♥"
He and his new husband will share the same last name Weir-Voronov. Johnny gushed about his happy nuptials to People.
Article continues below advertisement
"Marrying Victor has been the greatest moment in my life and I will work very hard to make him proud and happy. As an added benefit to all this joy, marriage gives your skin an amazing glow. I look forward to making a home for my family in Bergen County, N.J., and introducing my world of glitter and Faberge eggs to Victor.
"I am so happy to have found my match. Finding someone to share your life with is one of the most important things a human can do and was preached to me by my mother. Victor is the epitome of a gentleman, as handsome as he is clever and loving. Our road to marriage has been a fast one, but one I never wavered on. I am honored to have been married in the great state of New York, and I hope more states pass laws allowing all Americans to be united through love and marriage."
He also gave a statement from his new husband, with Victor saying "Getting married to Johnny has been the greatest experience of my life. He is the most wonderful, caring and nurturing person — and I can be guaranteed of one thing — with Johnny, I will never be bored. The support from my friends and family has been overwhelming and I am looking forward to beginning my life with the most incredible person I have ever known."