Exclusive
Johnny Weir's Secret Scandal: Olympic Skater Charged With Biting Husband In Alleged Domestic Dispute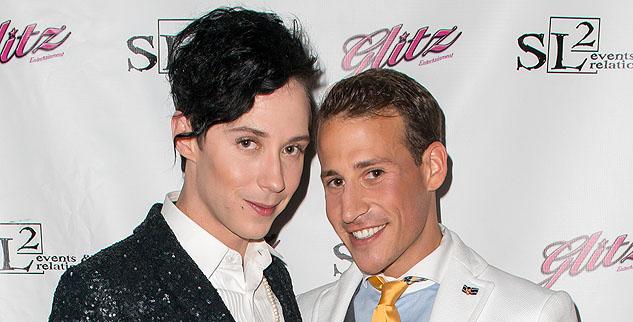 Olympic figure skater turned commentator Johnny Weir managed to keep a major secret as he hosted television coverage of the Sochi Olympics. As RadarOnline.com has exclusively learned, 29-year-old Weir was involved in an domestic violence dispute with his husband that had its courtroom sequel on Tuesday morning.
About a month before the games in Russia, Weir's husband, Victor Voronov, filed a police report in which he alleged the three-time U.S. national champion of biting him, a source revealed.
Article continues below advertisement
Despite the allegations, the couple appeared to have worked out their differences: RadarOnline.com was in a Lyndhurst, New Jersey, courtroom on Tuesday morning, where the pair put on a united front and requested the Lyndhurst Municipal Court judge to dismiss the case.
GALLERY: Winter Olympics! Ice Skating's 35 Secrets, Tragedies & Scandals
Sitting next to each other, Voronov put his hand on Weir's knee and whispered into his ear before the case begun.
When Weir approached the bench in an unusually subdued black ensemble, the judge took note of Weir's impeccable style and apparent celebrity status, remarking: "Nice hairdo!"
Without stating any specifics about the case and charges, the judge asked if the "victim" was present and ordered Voronov to approach the bench.
Voronov asked the judge to dismiss the case – and the dismissal was granted.
When RadarOnline.com approached Weir — who starred in his Sochi coverage for NBC — outside the courthouse, he said: "It is a private matter I do not wish to discuss."
Article continues below advertisement
Likewise, Voronov refused to comment, as he and Weir hurriedly hopped into an awaiting car together.
Celebs Who Have Come Out As Gay Or Bisexual
Local police and court officials refused to disclose more details, citing confidentiality because the incident was a domestic violence incident.
Weir married Voronov – a Georgetown Law graduate – in December 2011 and recently spoke about their dynamic relationship.
"A marriage between two guys is different than what I imagine a marriage between a man and a woman to be," he told Access Hollywood in February. "I mean, we're both constantly trying to fight to wear the pants in the relationship.
"It's constant fireworks," Weir added. "It's very boom, boom, boom."